A Man of "Vision, Tenacity and Dignity"
By Barron Tenny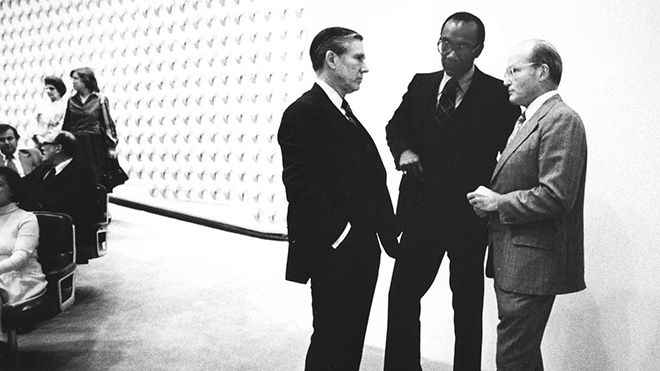 Franklin A. Thomas, center, at a Foundation board meeting with his predecessor, McGeorge Bundy, on the right, and the board's president, Alexander Heard, a former chancellor of Vanderbilt University.
I had the good fortune to work at two organizations led by Frank Thomas: Bedford Stuyvesant Restoration Corporation and the Ford Foundation. At both organizations his extraordinary set of qualities—vision, tenacity and dignity—were much in evidence.
Frank was clearheaded about the purposes of the two institutions and how they should relate to the people they served. He saw to it that Restoration addressed the full range of issues facing the Bedford Stuyvesant community—physical, economic, cultural and social—and that the residents were actively engaged in every step of the development process, from planning and construction through property management.
At Ford, he recognized that the people closest to the problems had special insights that those with offices on East 43rd Street lacked and needed to be involved in fashioning the solutions. And he believed that grantees should operate creatively and independently, not as agents to carry out a Ford Foundation agenda.
Frank was an institution builder. I can't imagine anyone else could have turned a fledgling community development corporation into the robust, enduring institution that Restoration became. Similarly, the changes that Frank instituted at Ford in the early years of his presidency—rightsizing the organization, overhauling its spending and investment policies, unifying its program division and establishing a set of programmatic themes to serve as the basis for all grant making worldwide—fundamentally transformed the organization and, in my view, created the modern Ford Foundation.
Frank's conception of the proper relationship between grantor and grantee was shaped by his experience at Restoration. Most significantly, as a grantee he had many dealings with Ford relating to Restoration's largest project, the development of a commercial center on a blighted block in Bedford Stuyvesant. Ford was a guarantor of 85 per cent of a $4 million loan from Chemical Bank for construction of the center.
To assist Restoration with the project, Ford engaged a consulting firm, which was paid by and reported to Ford. While appreciating the value of getting expert advice, Frank found the structure of the arrangement unsatisfactory. When he became president of Ford, he immediately changed the Foundation's practice so that grantees would receive funds to engage their own consultants.
The following episodes reflect how Frank developed his conviction that a foundation must understand the needs of its grantees and provide the required support. They also demonstrate his courage and capacity to assert himself.
On one occasion in the early days of the center's development, I sat next to Frank at a meeting of the staff team working on the project. Construction was underway but there was only one signed lease. Frank was holding a letter from the head of Program Related Investments at Ford expressing concern about Restoration's lack of progress in finding tenants, and seeking particulars as to how it planned to take necessary action. I watched as Frank drafted a response to the letter. It began: "Dear ___, Get us some f---ing tenants."
Subsequently, we were able to interest Lerner department store in serving as the center's anchor tenant. In order to consummate the deal, we consented to Lerner's non-negotiable demand that its lease contain a provision that excluded several brand-named women's clothing stores from the center. But, under the terms of the construction loan agreement, all commercial center leases required Ford's prior written approval.
After we submitted the proposed Lerner lease to Ford, we heard back that Ford would not approve the lease because its outside counsel had opined that the exclusionary clause constituted a violation of antitrust laws. I then had a call with Ford's outside counsel, who rejected both the legal arguments and the practical reasons I offered in support of approving the lease. When I got off the phone, I went to Frank's office bearing a copy of the lease. I reported the phone conversation to Frank, who, without hesitation, took the lease from me and signed it.
It was a privilege and a pleasure to work closely with Frank Thomas over many years. I have no doubt that but for him my professional career would not have been as fulfilling as it turned out to be. He took the chance of giving me a good deal of responsibility but never told me how to do my job. I did, however, get a great education from watching him in action and engaging with him on work matters.
Frank was understated and not one to lavish praise. I remember feeling good when he returned a work product of mine with a handwritten note saying, "I am not displeased with this."
I have fond memories of engaging with Frank on interesting and challenging projects at Restoration and Ford, of shooting the breeze on subjects of mutual interest (family, basketball, music) and of socializing (often as a foursome that included his wife, Kate, and my wife, Ursula). Frank played a major role in my life and I am grateful.
Buzz Tenny worked at the Ford Foundation from 1983 to 2011 as special assistant to the president (1983-1984), vice president, secretary and general counsel (1984-1997) and executive vice president, secretary and general counsel (1997-2011).