Promoting Diversity in Endowment Assets
By Mary McClymont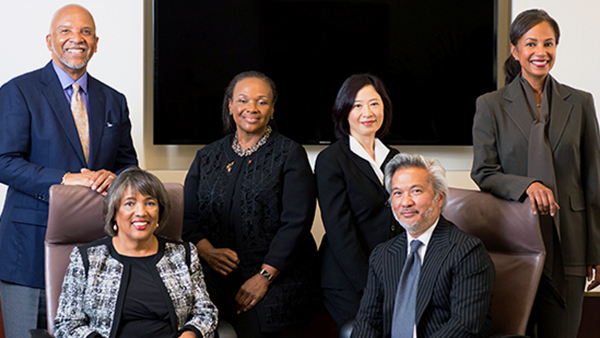 Senior officers of Progress Investment Management. At left, Thurman White, CEO, was one of the financial leaders consulted during the drive to increase diversity in asset management.
Many philanthropic leaders are considering ways to advance a social justice agenda by going beyond grant making and using endowment dollars more fully to advance our missions.
Given the deeply uneven playing field in so many aspects of American society because of abiding race-based disparities rooted in structural racism, many of us are also reviewing our grant-making and organizational practices to better understand and amplify how we can bring a much stronger racial emphasis to all we do.
These two strands come together in one area that has not really been embraced by philanthropy to date: analyzing who is managing those critical investment assets.
As in the larger world of finance, the share of foundations that hire minority-owned companies to manage their assets is woefully low. A recent study commissioned by the John S. and James L. Knight Foundation found that in the $71 trillion asset-management industry, women- and minority-owned firms managed only 1.1 percent of the total assets. That's even though those companies have achieved financial performance on par with those managed by white men.
This is especially disturbing because philanthropy, after all, is the sphere in which one would normally expect a strong push to bring mission-related concerns to the investment arena. For example, the Center for Effective Philanthropy reported in 2015 that 41 percent of foundations engage in impact investing. Unfortunately, however, foundations are paying only minimal attention to the diversity of asset managers, as compared to such other big investors as public pension funds.
The good news is that in recent years organizations such as the Association of Black Foundation Executives and the Diverse Asset Managers Initiative have been among those leading the charge to educate many more in philanthropy and beyond about this issue. One example is the recently published DAMI Fiduciary Guide, a tool designed for institutional investors that recognize the importance of diversity in asset management.
We at the Public Welfare Foundation recently joined a small but growing number of foundations, such as the Knight Foundation, Silicon Valley Community Foundation and W.K. Kellogg Foundation, that are seeking to diversify our lineup of investment managers to better reflect inclusion and diversity.
The Public Welfare Foundation is a privately endowed grant-making institution that works nationally to advance justice and opportunity for people in need. Our grant making includes reform of the criminal and youth justice systems, which are perforce racial-justice concerns.
The foundation's $500 million endowment is managed by Commonfund, an organization that manages the investments of colleges, hospitals, foundations and other mission-oriented institutions.
Our finance committee and board of directors, diverse bodies themselves, are committed to bringing racial and ethnic diversity to all aspects of our work. It was an astute suggestion from one of our finance-committee members that caused us to take up the challenge and explore how inclusive was the group of asset managers handling our investment portfolio.
Our exploration recently led Public Welfare to adopt a concerted goal to increase the diversity among our pool of asset managers and to encourage and enhance this approach in the investment-management practices of Commonfund as well. Our motivation emanates from a fiduciary responsibility to seek and engage the best talent available, but it is also mission driven, with a desire to ensure that our investment portfolio reflects a commitment to our value of racial equity, just like our grant making.
What course did we chart to reach the goal?
Our chief financial and administrative officer and I worked with the finance committee to learn as much as we could during the course of four committee meetings over 15 months. During our sessions, we brought in perspectives from influential leaders, including major foundation financial executives (Juan Martinez of Knight and Joel Wittenberg of Kellogg), along with prominent managers and consultants (John Rogers of Ariel Investments, Robert Raben of DAMI and Thurman White of Progress Investment Management). We also shared compelling research and studies on the subject with our committee.
During these discussions, the committee had an aha moment, a recognition that the pursuit of diverse asset managers was in no way contradictory to maximizing returns and meeting the board's fiduciary standard of care. With that settled, the committee decided, with full board support, to increase the number of diverse asset managers.
We then took up the mechanics of how to do it. After considered conversation, we decided to focus on our target group: majority-owned African-American and Latino firms, given their historic underrepresentation and our own long-standing concern of racial equity. Of course, we will learn, adjust and, in time, perhaps, broaden our definition. The committee then resolved to ask Commonfund to hire such managers to oversee parts of our portfolio, rather than carving out a separate fund. We believe this will help Commonfund engage directly, enhance its expertise through the process and encourage it to be a champion for this concern in the industry.
Finally, teeing off of excellent work done by the Silicon Valley Community Foundation, we developed a set of metrics to measure progress in achieving our goal to better hold ourselves and Commonfund accountable. As of March 31, a baseline set of data had been created to enable us to assess annual progress.
We recognize there's much left to do: encourage a recruitment effort for more diverse asset managers; tweak our metrics; perhaps set an overall goal for minority participation in the portfolio management; and reconcile ourselves to the fact that progress will be incremental.
Although we are in the early stages, we believe there will be real advantages for both Public Welfare and Commonfund. Given its role working with other foundations and big endowments, there should be a multiplier effect beyond our own portfolio. We also plan to join with other foundations that are pursuing the same goal, share our experience and encourage additional peers in philanthropy to adopt this approach. In that way, we can all work together to expand the universe of talented asset managers who guide the allocation of the nation's vast financial wealth.
Mary McClymont stepped down as president and CEO of the Public Welfare Foundation in September. She worked in the Peace and Social Justice program at the Ford Foundation from 1988 to 2000, and again from 2006 to 2008. This is a slightly edited version of an article published by The Chronicle of Philanthropy
on July 31.
Other articles in the series: