Brent Ashabranner 1921-2016: "Interpreting the American Experience"
Brent Ashabranner, who once described his "way through this world" as encompassing three lives, including 10 years with the Ford Foundation in the Philippines and Indonesia, died December 1 in Williamsburg, Va. He was 95.
"My first life," he wrote in an autobiography, The Times of My Life, published by Dutton in 1990, "lasted thirty-five years and all of it—except for three years in the U.S. Navy during World War II—was spent in Oklahoma. I was born there, went to school and college there, became a husband, parent and teacher there. I was a happy, provincial Midwesterner."
Mr. Ashabranner earned his bachelor's and master's degrees in English from Oklahoma State University, which then was Oklahoma A&M University, and taught English there until 1955. He also studied in later years at the University of Michigan, Boston University and Oxford University.
"My second life spanned twenty-five years," he wrote, "during which I lived and worked in many African and Asian countries: Ethiopia, Libya, Nigeria, India, the Philippines and Indonesia. Nine of those years were spent with the Peace Corps, one of the best and most imaginative international programs our country has ever had."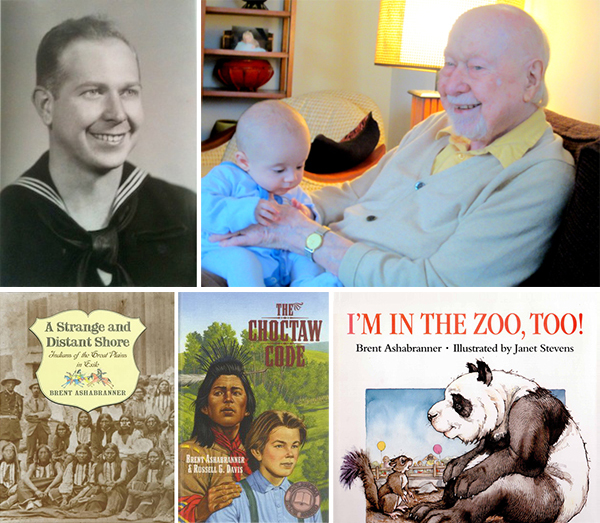 GROWING UP IN OKLAHOMA....
"My friend was a Cheyenne boy whose name was Jimmy Red Fox. Some kids in school made fun of his name, but I thought it was great. We played together during recess, and sometimes I talked him into joining my dare base team. Jimmy was the fastest kid I ever saw, and we never lost when I could get him to play. Then one day his desk was empty, and he never came back to school. I don't know why. I looked for him at powwows and dances but never saw him again."
He began his work in international programs in 1955, working on curriculum development in Ethiopia. He then went to Libya for the U.S. International Cooperation Administration as chief of the Education Materials Development division and then, in 1960, was the education program officer in Nigeria for the U.S. Agency for International Development.
It was not long after the Peace Corps was established that he became its acting director of the program in Nigeria, in 1961, moving on to be the deputy director and then director in India, director of the Office of Training in 1966 and the agency's deputy director in 1967.
He held several positions after leaving the Peace Corps in 1969, including with the Harvard University Center for Studies in Education and Development, as director of the Near East-South Asia Population Program of the Pathfinder Fund, and as director of project development for the World Population International Assistance division of Planned Parenthood.
He went to Ford in 1972, first as deputy representative in the Philippines and then as deputy representative in Indonesia before retiring in 1980.
His third life began when he moved to Williamsburg, Va., after leaving Ford and "used this quiet and wonderfully rich cradle of American democracy as a base for writing and interpreting the American experience for young readers.... I think my years of living in other cultures around the world have helped me to be a better writer about my own country."
His love of writing was never quenched during his international career, and began at a very young age, back in Oklahoma when he was 11.
"Under the spell of an exciting book called Bomba the Jungle Boy," he wrote, "I began writing a story which I called 'Barbara the Jungle Girl'...by page three I was hopelessly bogged down in the plot, and 'Barbara the Jungle Girl' was never finished."
But "the writing bug had somehow got in my blood and I really never stopped writing". Success came when he was 20 and published his first story and he never stopped writing.
His first book, The Lion's Whiskers, a collection of Ethiopian folk tales, was co-written when he worked in that country with a fellow aid worker, Russell Davis. He wrote several more books with Davis, and others through the years with his daughters, Melissa and Jennifer.
Six of his books have been chosen as Notable Children's Books by the American Library Association, and the National Council for the Social Studies gave him its Carter G. Woodson Award for Non-Fiction three times for books depicting ethnicity in the United States, and its Outstanding Merit Book Award twice. In 1996, the National Council of Teachers of English recommended his book about the Great Plains Indians in exile, A Strange and Distant Shore.
In 1990 he received the Washington Post Children's Book Guild Award for career achievement.
His books have dealt with a wide range of topics, all as an effort to illuminate American life. He has written about Native Americans, immigrants and monuments to historical figures and events, all meant to help young people understand the nature of American society.
"I write mostly about rather complex issues and problems," he once said. "Finding ways to make these subjects interesting and understandable to young readers is a challenging task I never tire of. I firmly believe that we do our most important reading when we are young; to try to engage young minds on worthwhile subjects is a great satisfaction."
In his writing he had "one overriding hope...that the people I write about will emerge as human beings whose lives are real and valuable and who have a right to strive for decent lives".
Besides his daughters he is survived by his wife, Martha, with whom he had recently celebrated their 76th wedding anniversary; three grandchildren, and one great-grandchild.