Celebrating LAFF's First 25 Years
Nearly 200 people—members of The LAFF Society, some family members, friends of LAFF and Ford Foundation staff—gathered in New York City on May 17 to celebrate an organization that Darren Walker, the Ford Foundation's president, marveled at how, from a small beginning 25 years ago, has come to "inspire such loyalty, compassion and commitment."
"This remarkable thing called LAFF," he said in opening remarks at the day-long fête, "has become for many of us a signature of what makes the Ford Foundation such an extraordinary institution."
In starting a day that included panel discussions on the Foundation's history, its current work and issues confronting it in a changing world, he encapsulated what was to come by noting "The stories that you will share, the communities that you will continue to build and extend, and your understanding today how the heritage, the legacy that you all have created continues to live on."
It was a day that brought into focus a growing sense of continuity between the work of LAFF's members and the Foundation's work today.
"We thank you," Darren Walker said, "we honor you, for all the things you did to advance the cause of justice in the world. We will continue to honor you by continuing to build on the great work that you did."
Shepard Forman, LAFF's president, observed that "Today initiates a new phase in the relationship between the Foundation and LAFF, based on respect and reciprocity, and based largely on" the Foundation's "deep commitment to history and the understanding that it brings to the current work of the Foundation."
The history of LAFF and its gradual growth toward that "respect and reciprocity" was described by Richard Magat, a co-founder of LAFF, as an effort to "fill the gap of memory". His remarks are in a separate story LAFF, the Early Years.
During the morning, representatives of the Rockefeller Archives Center, where the Ford's growing archival collection is housed, gave an overview of the efforts to preserve the Foundation's history, and foundation staff members discussed new strategies and thematic areas of work.
Lunch included a question-and-answer session with Darren Walker, Shepard Forman and Timothy Geithner, former Secretary of the Treasury in the Barack Obama administration and a son of Peter Geithner, a former president of LAFF.
There were three simultaneous panel discussions in the afternoon, each considering a different aspect of the difficulties facing philanthropy in a changing and challenging world, followed by a description of the changes planned in a two-year renovation of the headquarters building that will begin later this year.
And then there was time set aside just to spend with old friends, a mingling and reunion that began early and never stopped, as the accompanying pictures attest.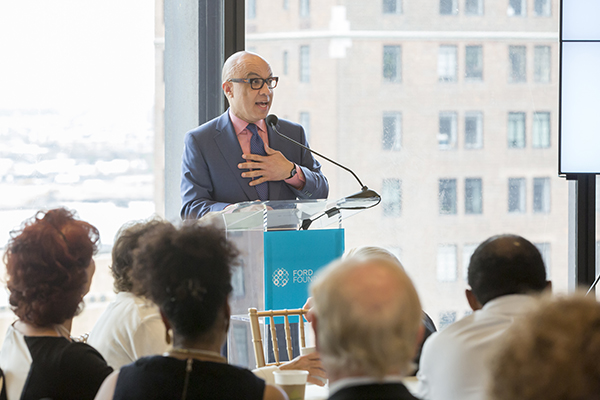 Darren Walker, Ford Foundation president, welcomed "this remarkable thing called LAFF"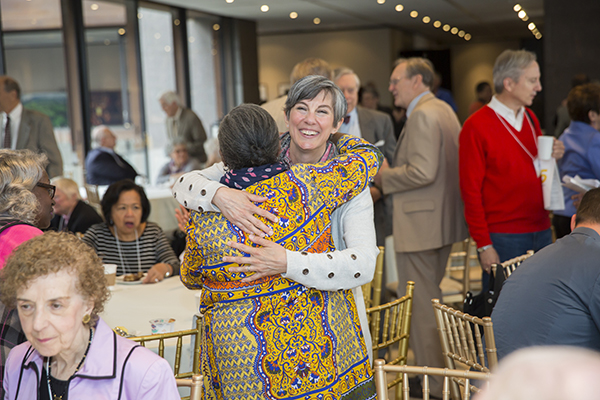 Jennifer Powell greeted an old friend, Sheila Nelson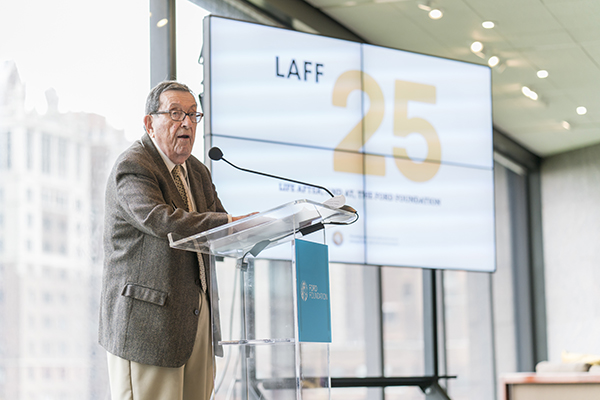 Richard Magat, co-founder of LAFF, provided a history of its founding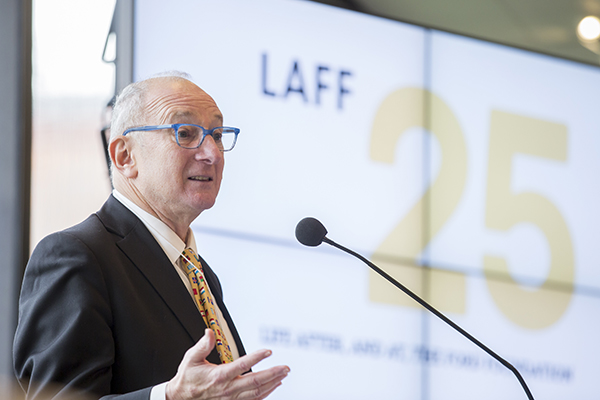 Michael Seltzer, LAFF executive committee member and chair of the New York chapter and of the planning committee for the event, explained the day's events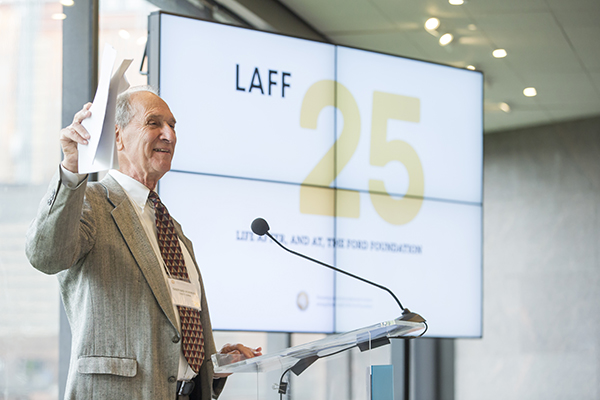 Shepard Forman, LAFF's president, extolled the "new phase" in LAFF's and Ford's relationship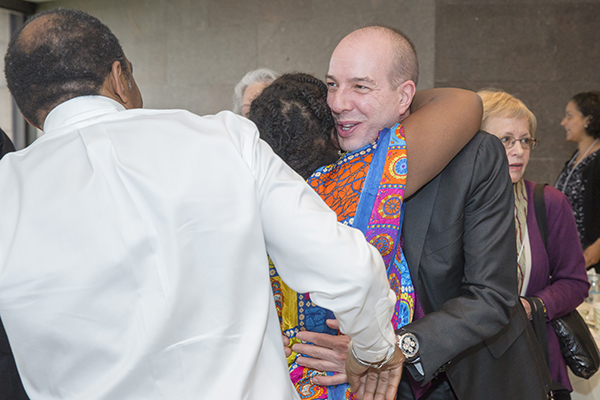 Anthony Romero and Natalia Kanem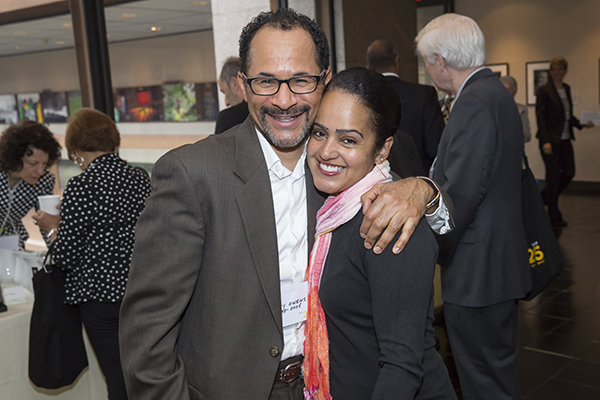 Mitty Owens and Iris DeJesus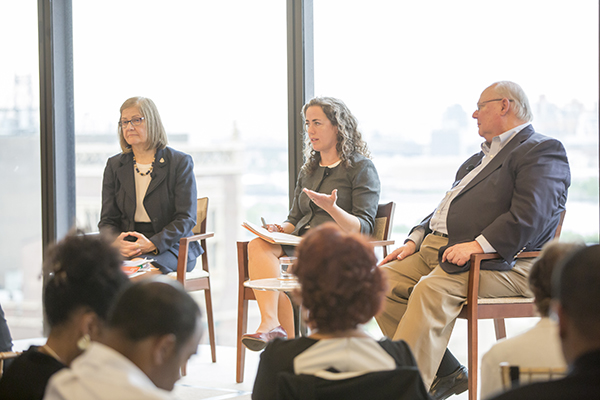 The morning panel discussing the Foundation's archives in A Walk Through History, from left, Patricia Rosenfield and Rachel Wimpee of the Rockefeller Archives, and Barry Gaberman, moderator and retired senior vice president of the Foundation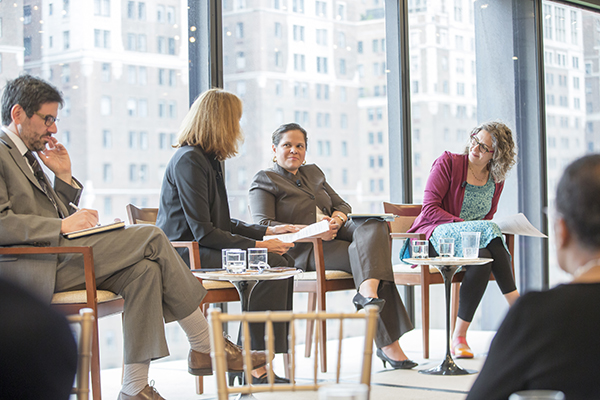 All That's New, a panel on the Foundation's current work, with, from left, Martin Abregu, vice president for Democracy, Rights and Justice; Betsy Campbell, moderator, vice president of LAFF and vice president for programs at the Rockefeller Brothers Fund; Monica Aleman Cunningham, senior program officer for BUILD; and Bess Rothenberg, Director of Strategy and Learning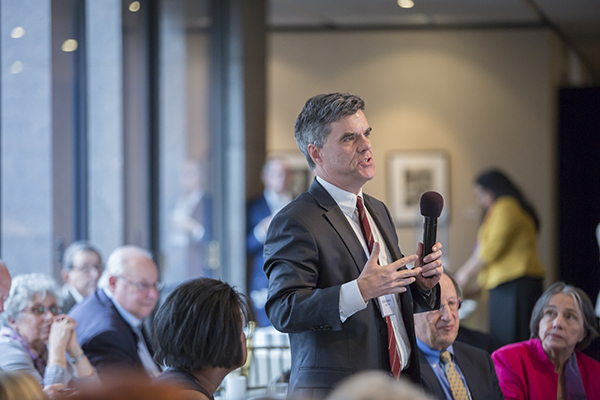 Kerwin Tesdell poses a question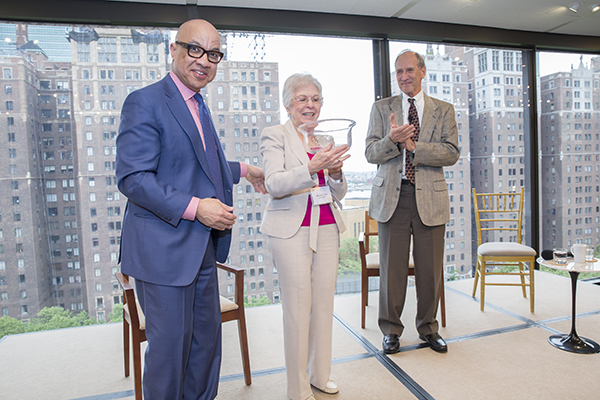 Described as "indefatigable", Nellie Toma, treasurer and secretary of LAFF, was honored and presented a crystal bowl by Darren Walker and Shepard Forman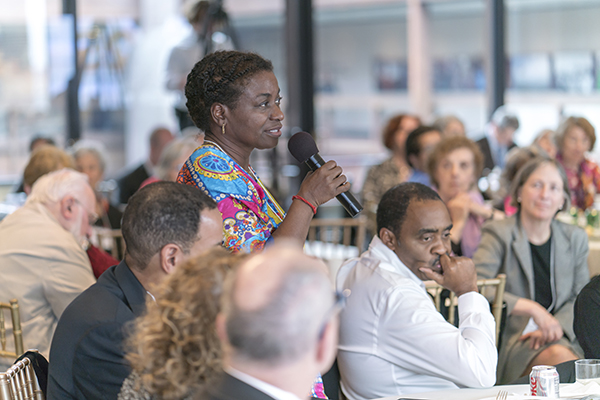 Natalia Kanem asks a question of Timothy Geithner, below.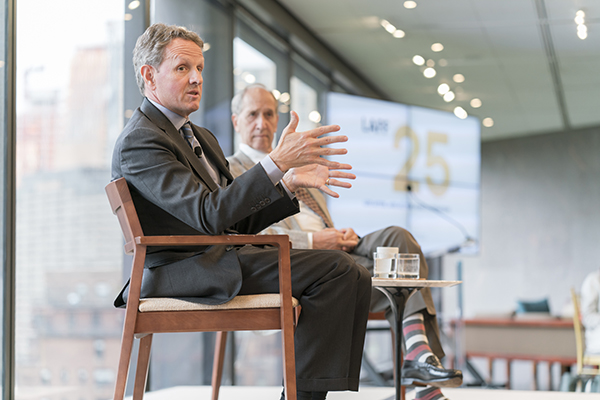 Timothy Geithner, son of a former LAFF president, the late Peter Geithner, and a former Secretary of the Treasury, who was joined by Darren Walker and Shepard Forman in a lunchtime give-and-take panel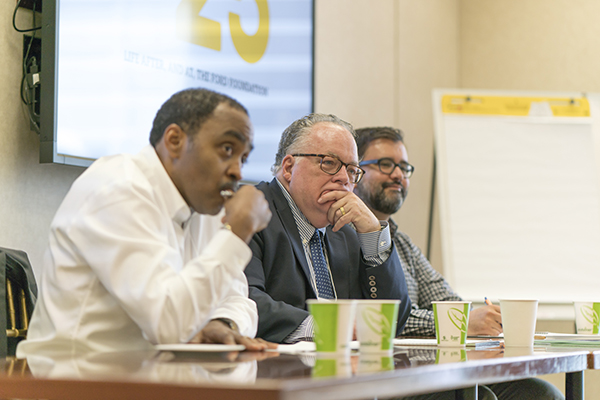 Panel members, from the left, moderator Emmett Carson, president and CEO of the Silicon Valley Community Foundation, Christopher Harris, senior Consultant to the Norwegian Peacebuilding Resource Center, and Chris Cardona, Ford program officer for philanthropy, discussed The Changing Face of Philanthropy at an afternoon discussion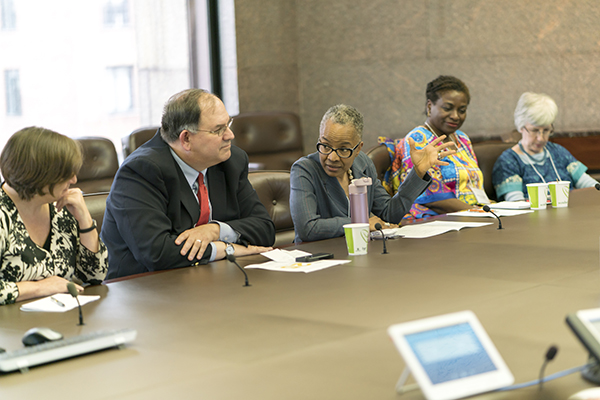 Mark Sidel, professor of law and public affairs at the University of Wisconsin, was on a panel discussing Working Internationally in a challenging Era for Civil Society, with, from his left, Mora McLean, the moderator and director of Corporate and Foundation Relations at Rutgers University, and Natalia Kanem, Assistant Secretary-General and Deputy Executive Director (Programme) of the United Nations Population Fund (UNFPA)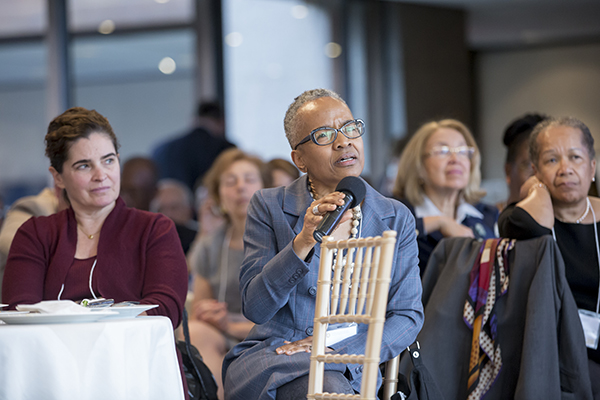 Mora McClean asks a question while, from the left, Rebecca Nichols, Margaret Black and Michelle Sylvain listen raptly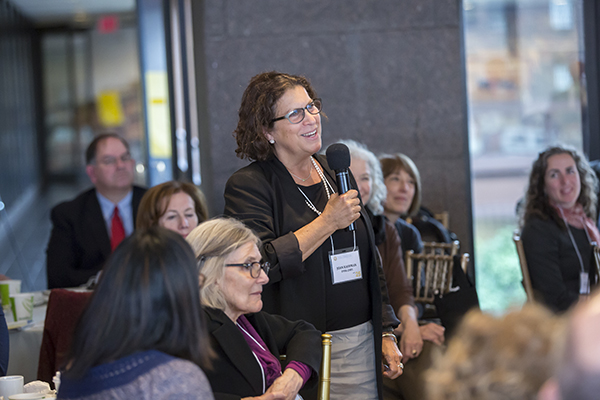 Joan Kaufman asks a question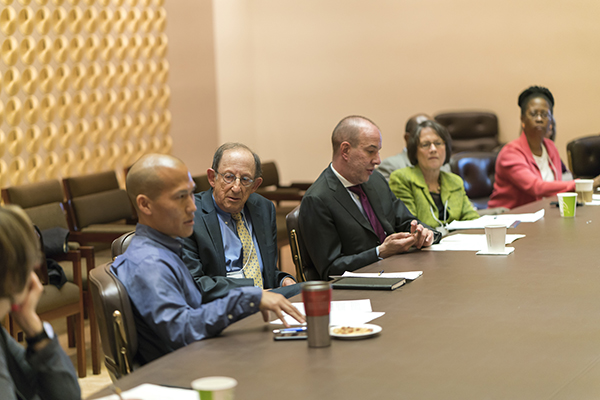 The third afternoon panel, on Grantmaking in a Charged U.S. Political Environment, included, from left, Jee Kim, program officer at Ford in Civic Engagement and Government, the moderator, Michael Lipsky, distinguished senior fellow at Demos, Anthony Romero, executive director of the American Civil Liberties Union (ACLU, and Mary McClymont, president of the Public Welfare Foundation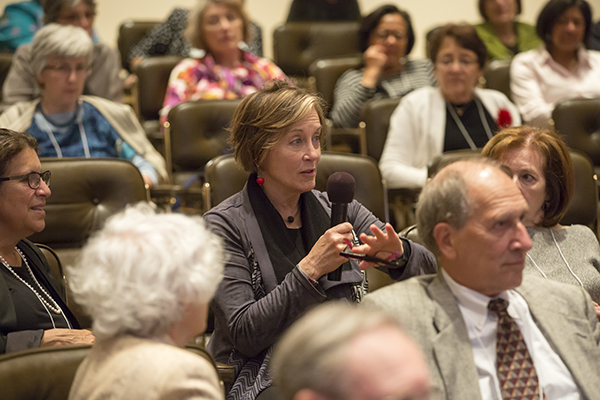 Janet Maughan, president of Passport Foundation, asks a question during a presentation on the two-year renovation of the Foundation headquarters building, scheduled to begin later this year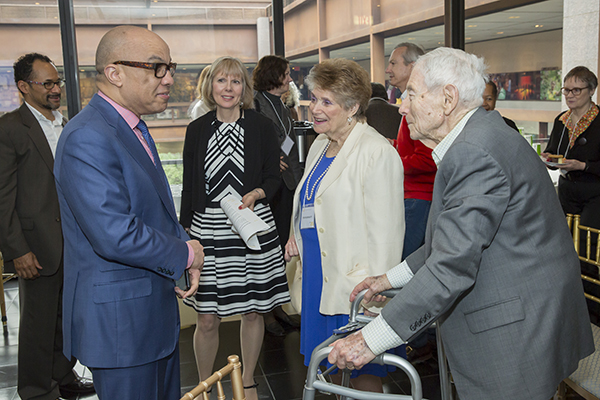 Darren Walker chats with Bud Harkavy, one of the first members of LAFF and an early president of the group, Bud's wife, Fran, on his right, and Dianne DeMaria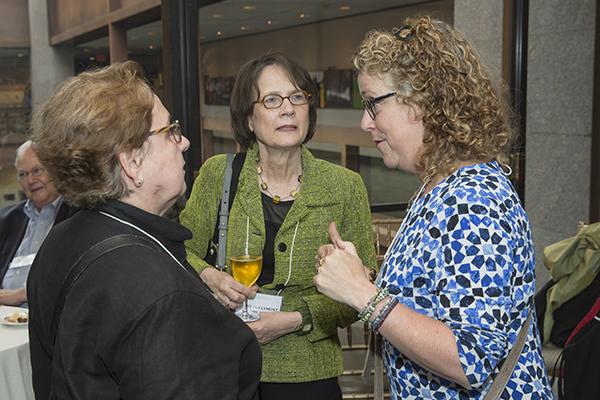 Janice Petrovich, Mary McClymont and Margaret Hempel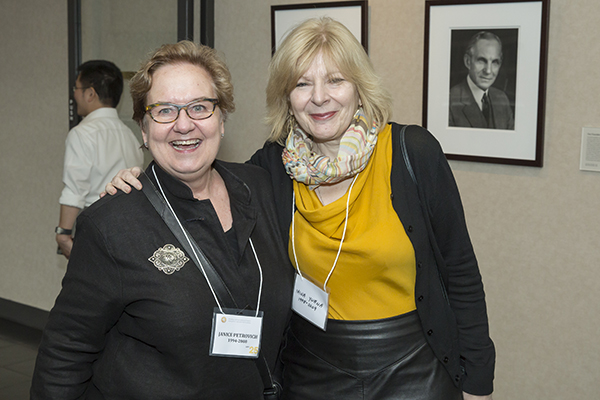 Janice Petrovich and Irina Yurna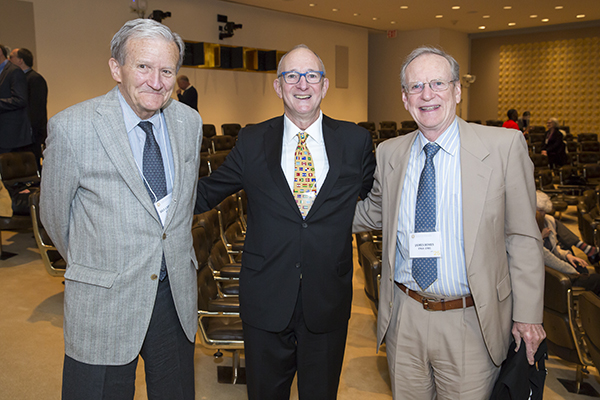 Bill Carmichael, Michael Seltzer and James Himes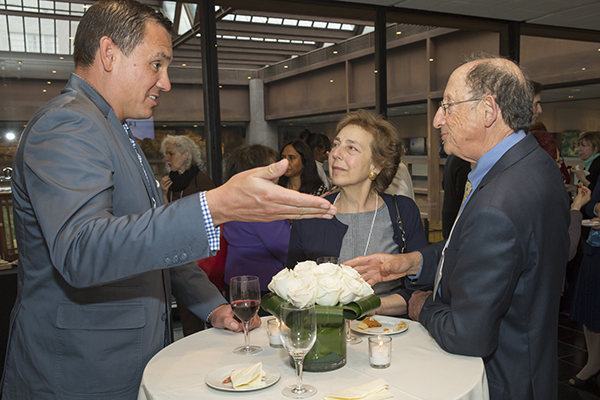 Andrew Lee, Marian Krauskopf and Michael Lipsky