Alison Bernstein,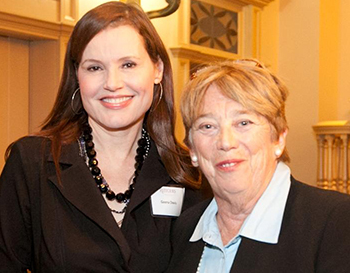 Alison Bernstein, right,

and Geena Davis.
Alison Bernstein, director of the Institute for Women's Leadership Consortium (IWL) at Rutgers University and a former vice president of the Ford Foundation, died from cancer June 30. She was 69.
Ms. Bernstein was "a national and international leader in higher education and culture," said Darren Walker, president of the Foundation, and "a powerful voice for justice. She cultivated the talents of others, encouraged bold programming, encouraged original thinking and was a vibrant presence….She gave with real generosity to everyone around her."
A statement from the IWL said, "Those of us who worked with Alison will cherish our time together and recall with a smile her larger than life presence, her keen intelligence, her love of the arts and her laughter. We are so grateful for her leadership and her contribution to women's education here and throughout the world."
While at Ford, he said, she played a critical role in some of the Foundation's "most enduring and successful programs", including the International Fellows Program, Difficult Dialogues, Pathways to Higher Education and the 1995 Beijing Conference on Women.
Ms. Bernstein began working at Ford in 1982 as a program officer and, in 1992, was named director of the Education and Culture Program, a position she held for four years. She then was appointed vice president for Knowledge, Creativity and Freedom and of its successor program, Education, Creativity and Free Expression.
She left Ford in 2010 to teach at Spelman College in Atlanta, where she held the William H. and Camille Cosby Endowed Chair and was a professor of humanities and women's studies.
She became director of the IWL at Rutgers in 2011, where she initiated two areas of focus, Women and Health and Women and Media, and created the Gloria Steinem Endowed Chair in Media, Culture and Feminist Studies.
At the time the Steinem endowment was announced, Ms. Bernstein said, "It was an idea I had after noticing Gloria Steinem won the Presidential Medal of Freedom. I realized there had never been a chair anywhere in the U.S. dedicated to the legacy of this extraordinary feminist icon…."
She was also editing an eight-volume book series, Junctures: Case Studies in Women's Leadership, which will be published by the Rutgers University Press.
Ms. Bernstein's education and professional work fueled her continuing interest in twentieth century American political, social and cultural history, focusing on American Indians and women's and gender history. She was a graduate of Vassar College and earned a master's degree and a doctorate from Columbia University, writing her dissertation on Walking in Two Worlds: American Indians and Impact of World War II while working at Ford.
She wrote two books, Funding the Future: Philanthropy's Influence on American Higher Education and American Indians and World War II: Toward a New Era in Indian Affairs and co-wrote two others, The Impersonal Campus and Melting Pots and Rainbow Nations: Conversations About Difference in the United States and South Africa. She was also the author of many articles in scholarly journals that drew on her primary interests of higher education, philanthropy, American Indian history and culture, and women's issues.
She began her teaching career in 1970 as a history instructor at Staten Island Community College, and became the assistant to the college's president. She was then an associate professor of history and dean for innovative and experimental studies at Sangamon State University in Springfield, Ill. She also was associate dean of the faculty at Princeton University and, while at Ford, an honorary adjunct professor of higher education at Columbia University's Teachers College and an adjunct teacher in the Bryn Mawr College Summer Institute for Women in Higher Education Administration.
Her skills and expertise were recognized nationally as a member of the President's Standing Committee on the Status of Women, the Presidential Advisory Board on Tribal Colleges and Universities, and the Board of Advisors to the Smithsonian Institution's National Museum of American History.
She also was a member of the board of the News Literacy Project (NLP), whose president, Alan Miller, said, "We are heartbroken. Alison was an early champion of news literacy, an invaluable board member and a smart, gracious and thoughtful friend."
National honors include receiving the Women of Distinction award in 1989 from the National Conference for National College Women Student Leaders, being named Outstanding Leader in Higher Education by Change magazine in 2000, being honored by the National Council for Research on Women with its Women Who Make a Difference award in 2007, and receiving the Lifetime Achievement Award in 2010 from the Office of Women in Higher Education of the American Council on Education.
She also was a member of the board of directors of the International Fellowship Fund, a member of the board of the Samuel Rubin Foundation and a trustee of Bates College.