"Living into My Life"
By Joy Carol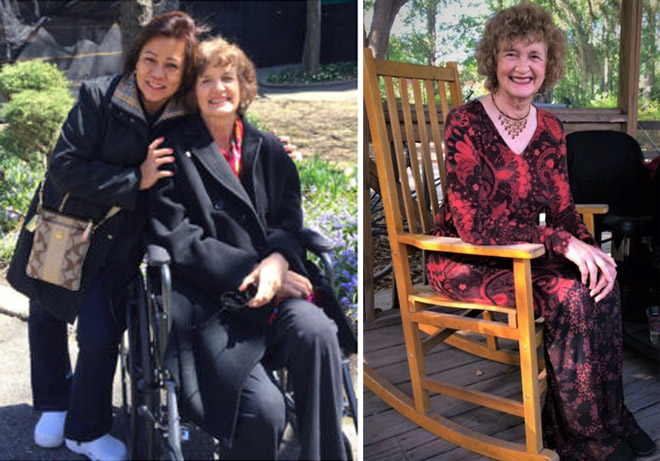 Joy Carol and Prescilla Manuel, one of her 24/7 caregivers, after her diagnosis. Without her two Filipino caregivers, she "could not have survived".
How refreshing it is to read Noorain Khan's and Catherine Townsend's article "Turning the Tide, Together: Disability Inclusion at Ford", published on the Ford Foundation's website last spring, "a perfect time," wrote the authors, "to pause and share some updates on our disability inclusion journey."
They write that Ford has set two important goals for the next five years: to make the Foundation's grantmaking and operations positively inclusive of disabled people and to help ensure that the larger philanthropic field includes the rights of disabled people. Khan and Townsend state: "We know these are ambitious goals, but given the tremendous inequalities faced by people with disabilities, our only option is to be ambitious."
Why has this decision had an impact on me, personally? I have lived a deeply meaningful and exciting life. I've worked for humanitarian agencies in some of the most difficult regions around the world and appreciated every step of that journey. I have grasped life's opportunities and tackled challenges with courage and enthusiasm.
More recently, though, I have embarked upon a different journey, one that I never expected to travel. I am faced with a personal health issue: the rare, usually fatal Paraneoplastic Syndrome. I am challenged—as a disabled person. However, I know I'm more than a diagnosis. I'm a person of worth who chooses to live life to the fullest in spite of my hardships. As Helen Keller once said, "Life is a daring adventure, or nothing at all."
Disabilities (physical, cognitive, mental, sensory, emotional, developmental or a combination of these) are the result of an impairment that may be present at birth or occur during a person's lifetime. They usually compromise a person's quality of life and cause numerous disadvantages. Disabled people are assaulted, often live in poverty and are unemployed and under employed at higher rates than non-disabled people. People with disabilities face widespread exclusion, discrimination and human rights violations.
Nearly 650 million people in the world live with the challenges of a disability. And as the population ages, this figure is increasing. According to the United Nations Development Programme, 8 percent of persons with disabilities live in developing countries. The World Bank estimates that 20 percent of the world's poorest people have some kind of disability and are perceived in their communities as being the most disadvantaged.
It is expected there will be more disabled people because of the increasing numbers of elderly persons who suffer a physical or cognitive challenge as they age, and of children in developing countries facing malnutrition, diseases and child labor as well as armed conflict and violence. For every child killed in warfare, three are injured and acquire a permanent form of disability, according to the World Health Organization.
I admit that, before I became disabled, I pitied people I met who had a disability. At times I felt guilty because I went out of my way to avoid people I knew who had special needs. I felt uncomfortable because I didn't know how to respond appropriately.
As we get older, disabilities have a way of creeping up on us, preventing us from doing things we once did with ease. Even if we are an "able-bodied" person, a disability will likely be part of our lives at some time in our future.
Sometimes when we are unable to function well, many of us see little purpose in living and in our frustration feel sorry for ourselves. When we aren't living what we perceive as a productive life, questions arise: "Why has this happened?" "What did I do to deserve this?"
What does it mean to be a disabled person? Here are some of my thoughts and personal experiences.
For 35 years, I developed programs for such organizations as the Ford Foundation, the United Nations, Save the Children and Child Fund. After those meaningful and exciting years, I attended seminary. Then, for 15 years, I traveled across the United States and Europe as an author, inspirational speaker, and retreat and workshop leader. I thrived in this work.
Then my world changed. In 2013, I started falling on the New York City streets, on subway stairs, everywhere. With my body stiffening, I couldn't stop falling. Finally, one foot wouldn't move in front of the other. I went to the emergency room at Roosevelt Hospital, where I was admitted and given numerous tests. As weeks passed, I lost 30 pounds and was like a skeleton in a wheelchair, unable to get out of bed, walk or even dress myself. My life was completely out of kilter.
My doctors worked hard to keep me alive, yet I was slipping away without a diagnosis. My neurologist said, "I don't want you to die. You appreciate life so much." She sent my spinal fluid and blood to top United States research laboratories.
Finally, the diagnosis came from the Mayo Clinic: I had the rare, usually fatal Paraneoplastic Syndrome, or PPS, triggered by my own immune system's response to cancer, a doubly devastating discovery because I didn't know I had the disease. PPS develops as the body's immune system responds to cancer, usually of the breast or lungs, but I had been very faithful about getting mammograms and ultrasounds and all of that. I had my last mammogram only two months before PPS was discovered and it was completely clean, a "come back in a year" type of report.
So the situation was clear: My overactive antibodies were trying to kill the cancer cells, and they were also destroying my central nervous system, preventing me from walking. Although my body was trying to do the right thing, it was killing me.
I've been fortunate so far. The cancer has been in remission for seven years, and I am probably the only person who has survived longer than three years with PPS. I'm the Mayo Clinic's poster child because I'm in my eighth year with the condition, the longest length of time people live after being diagnosed with PPS.
But I still remember vividly the horrible shock and distress I felt as the doctor told me the diagnosis. I would be disabled and I might die. I was devastated. In a few minutes, how I viewed the world, how I felt about myself, how I would live my life in the future were totally changed. I felt overwhelmed with despair.
Most people hope they won't be disabled or won't have a child, partner or parent with a disability. Research has shown that when people are asked what they fear most, loss of health and debilitating disabilities rank high on their list. We want children to progress at a normal rate of development. We expect parents to age gracefully. We hope that when we get old we will enjoy the golden years. So, when Multiple Sclerosis begins to wither muscles, or Alzheimer robs the mind, or macular degeneration leaves one visually impaired, or one can't hear, or one is unable to walk—none of that is expected. Unconsciously we think of that as not normal, and thus see a person who is disabled as "abnormal". We focus on negative features rather than see the person as valuable. Sadly, the way we view people is the way we usually treat them.
Unanticipated disabilities can easily cause anger, self-pity and depression. When I couldn't walk, care for myself, drive a car, work, travel or live in my home, it was terrifying and often a humiliating experience.
It wasn't long before I learned firsthand that people with disabilities are repeatedly discriminated against, stigmatized and shunned. It was a difficult lesson to learn. I've experienced people trying to avoid me, flooding me with extreme kindness and helpfulness to the extent that I truly felt helpless, and unintentionally hurting me by how they spoke to me. People have said, "You can't go. You couldn't get up the stairs." They were wrong! I refused to be limited by their perceptions of me. It is never good to tell a disabled person what they can or cannot do.
One of my extremely brilliant friends, who looks "normal", has a severe learning disability. He talks about the nightmare it was for him as he grew up. He was called stupid and a dummy, and that he wasn't trying. It took years of therapy for him to feel like a worthwhile human being.
We all know about incredible people with severe disabilities who are doing some amazing things: A woman who was attacked by a shark and has only one arm is a champion surfer. A man who has no arms is a top archer. A blind man who rides a bike in mountain races is a winner.
How should we treat people who are disabled? I believe we are to respect all people regardless of their physical or their mental ability. We need to see disabled people as having the right and capability of fully engaging in life. And we must not prejudge or treat them as though something is wrong with them.
Although the complications of being disabled can make people afraid, skeptical, enraged or miserable, I know it is possible to choose to change that picture. It's not an easy task when facing anguish and despair. Nevertheless, even in terrible times, we may discover there are some surprising gifts buried somewhere in our lives: the desire to serve, wisdom, courage, hope.
I now understand that significant growth can come from being disabled. What I found surprising was that my disability helped me learn much more about myself. I was forced to face my fears and losses, discover my strengths and capabilities, and appreciate other people's kindness and help. I began to pay attention to what was important and valuable. Being disabled helped me come to a deeper understanding of life itself. I could no longer escape into the future or try to live in the past. Certainly, my disability taught me to be grateful for the gift of life.
And I have discovered one simple truth: We might not be able to be cured or healed, but we can choose how we respond to our challenges, no matter how difficult they may be.
Yes, the Paraneoplastic Syndrome has limited my ability to walk. Still, after grieving my losses, I have learned what my skills and strengths are. Hope has interrupted my despair. So, I shall continue to work at living fully into my new life. I now know I am not a diagnosis nor an illness. I am a strong woman who has much to contribute to the world.
Joy Carol has written eight books, most recently
Nine Lives of Joy: The Journey of a Life
, and writes more fully of the experiences she discusses in this article on her website, www.joycarol.com. She has earned master's degrees in counseling psychology from the University of Maryland and theology and spiritual direction from the General Theological Seminary of the Episcopal Church, and was awarded an honorary doctorate in humane letters from Wesleyan University. She worked at the Ford Foundation from 1980 to 1984 in the Education and Culture and Urban Poverty programs.