Music in the Time of Covid: Stellar Performances Online
By George Gelles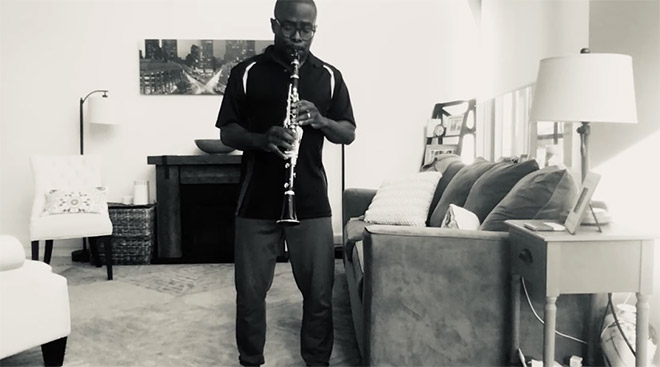 "TakeTwoKnees", by Anthony McGill, principal clarinetist with the New York Philharmonic.
For many years, I have looked forward to starting the New Year with the Vienna Philharmonic and music by members of the family Strauss. Mid-19th century, the dynasty owned dance music: polkas, galops, marches, quadrilles and, especially, the waltz. Johann Sr., Eduard, Josef and Johann Jr.—contemporaries crowned him "The Waltz King"—created a repertory that is synonymous with Vienna, and the Philharmonic has lent each year a festive start with the fizziest concert of the season.
After long-term tenures by conductors who were members of the Philharmonic family (Clemens Krauss, Josef Krips and Willy Boskovsky), for more than three decades now the podium has been occupied by a panoply of the international elite, including Carlos Kleiber, Leonard Bernstein, Seiji Ozawa, Claudio Abaddo, Daniel Barenboim and Gustavo Dudamel.
The most recent New Year's Day concert saw the return to the podium of Riccardo Muti, a six-time veteran who last led the orchestra on New Year's Day in 2018. But this performance was different: In Vienna's Musikverein, the Philharmonic's gilt and gorgeous home—it is surely the most resplendent of Europe's great 19th century concert halls—the performances were played to an audience of 1,744 vacant seats. The coronavirus had emptied the hall.
This, perhaps predictably, diminished the concert's luster. The musicians played note-perfect if a bit pro forma—musicians need a "live" audience for whom they can perform, whose appreciation they can sense—and Muti was, as always, professional, but the champagne had gone flat.
In our distressed and stressful time, it is perhaps not surprising that confections such as Strauss waltzes, even perfectly televised, seem somehow anachronistic. Orchestras and other performing arts organizations affected by the coronavirus, which is to say the entire cultural enterprise, will have to imagine and implement new ways to reach audiences that are as vivid and vibrant as being at a concert itself.
Since last Spring, when the pandemic's dangers were widely acknowledged and "live" performances were suspended, musicians and dancers have begun to show great imagination in rethinking their art, its creation and dissemination. With performance venues closed and traditional performances unavailable, I've watched dozens—no, hundreds—of videos, and would like to share an exceptional few, both of music and dance.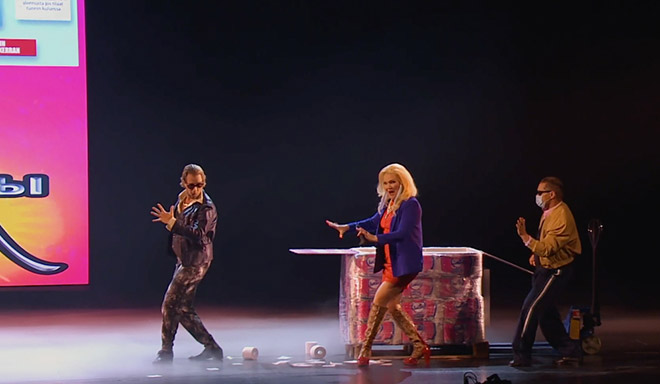 Covid Fan Tutti...after soprano Karita Mattila pops out of a pallet of bathroom tissue.
Many fine operas old and new can be found online, but among the most interesting is a production from the Finnish National Opera called Covid Fan Tutti. Here's the backstory:
The opera, based on Mozart's Cosi Fan Tutti, was conceived by conductor Esa-Pekka Salonen and soprano Karita Mattila, both of whom were in their native Finland when international borders closed. The Finnish Opera at the time was preparing performances of Wagner's Die Walkure. On the video performance of Covid a Wagner rehearsal is interrupted by the "Audience Interface Manager", who stops the rehearsal and announces that a different opera would be performed.
Covid Fan Tutti is purely heuristic. Set to Mozart's irresistible music—from Cosi, and also from Don Giovanni and The Magic Flute—it is a vehicle that informs the audience about the virus and its dangers, and ways in which to protect oneself. The piece received 12 "live" performances last Fall and was videotaped for wider dissemination.
Salonen's conducting and Mattila's singing are both exemplary, as you would expect from world-class artists. But their performances are not really the point: Covid Fan Tutti is essential education masquerading as art.
On a smaller scale, though no less serious, is the remarkable initiative undertaken by virtuoso violinist Jennifer Koh. Best known as a soloist and chamber musician in constant demand, Ms. Koh, in 2014, founded the ARCO Collaborative. To cite its aims, it "commissions, develops, and produces new musical works that highlight artists of color and women composers in collaborations that bring forth stories previously unheard in western art forms."
In response to the pandemic, Ms. Koh conceived Alone Together, which, she has explained, is "an online commissioned project that brings composers together in support of the many freelancers among them. Twenty composers, most of whom have salaried positions or other forms of institutional support to carry them through this challenging time, agreed to donate a new 30-second micro-work for solo violin, while also recommending a fellow freelance composer to write a 30-second solo violin work on paid commission from the ARCO Collaborative."
Ms. Koh premiered these donated and commissioned works and you can hear them on YouTube.
"Nigra Sum, Sed Formosa" ("I Am Black, But Beautiful"), based on the Biblical text found in the Old Testament's Song of Songs (1:5), was set by many composers of the Renaissance and Baroque (most notably by Monteverdi in his Vespers of 1610), and now has been set anew by Black composer Jonathan Woody to a text by countertenor Reginald Mobley that relates indignities that he himself suffered as a Black man.
"Nigra Sum, Sed Formosa: A Fantasia on Microaggressions" is composed for five singers, keyboard and viola, and was recently given an impressive premiere by the Handel & Haydn Society at Castle of our Skins, a center for Black performing arts, in the Roxbury section of Boston.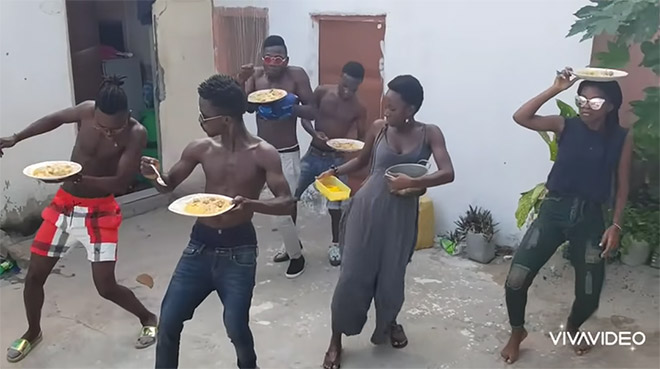 "Jerusalema" performed by Fenomenos do Semba in Angola.
As important as the videos just mentioned might be, the two I find most thrilling are in a class by themselves, yet they couldn't be more different. The first, for dancers, is brilliantly extrovert, while the second, for solo clarinet, deeply introvert. The first speaks of communal celebration, the second of personal communion. The first makes its case with large gestures for all the world to see, the second shows masterful restraint.
When I first heard and watched "Jerusalema", the gospel-inspired song composed by Kgaogelo Moagi and sung by Nocembo Zikode, I must have been among the few on the planet who hadn't succumbed to the mania the song induced. Published in 2019 and sung in Isizulu, one of South Africa's 11 national languages, "Jerusalema" is a prayer to God to take the singer to the holy city of Jerusalem. It became an international craze among people trying to combat the coronavirus malaise. First in Angola, then in Portugal, its steps were danced and its words were sung by groups of all sizes and backgrounds: by friends in Angola; by priests and nuns in Italy; by kids in Transylvania; by personnel and passengers at Stuttgart Airport; and, not to be outdone, I imagine, by flight personnel and their presumptive passengers, dressed in dirndls and lederhosen, on a tarmac of Austrian Airlines.
It's every place, as you'll see with a quick search of YouTube. I imagine that Antarctic penguins are doing it too.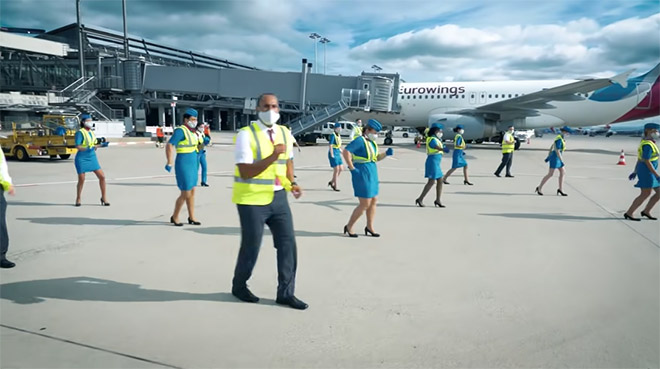 "Jerusalema" featuring personnel and passengers at Stuttgart Airport.
The single video I find most compelling, called "TakeTwoKnees", comes from Anthony McGill. At age 35, he won the post of principal clarinetist with the New York Philharmonic, becoming the first Black principal musician since the orchestra's founding in 1842. As such, he is royalty among Black musicians, and among non-Black musicians too.
Last Spring, feeling a need to respond to repeated acts of violence against Blacks (Black Lives Matter had given voice to wide-spread dismay since its founding in 2013), McGill, at his wife's suggestion, took his clarinet and played "America the Beautiful", a patriotic song lodged in our national consciousness since its publication in 1910.
But McGill's is no conventional rendition. His tempo is measured, his mood is reflective, and when the words "America! America!" first are heard, McGill shifts the music from the major mode to the minor, tingeing his performance with uncommon emotional depth.
As if to emphasize his intent, when his performance is finished—tellingly, the final note never sounds because his version remains a work in progress—McGill puts his clarinet behind his back and slowly drops to his knees, as if in submission. In a time of racial polarization, it's a gesture we've seen far too often, but McGill's extraordinary performance gives the gesture a different meaning. He might be dropping to his knees as if in church, as if in prayer.
With its understated virtuosity, McGill's is the most searing performance I've thus far encountered online, but whatever your predilections in music or dance, you'll likely find them satisfied, either streamed in-the-moment or pre-recorded, as we await truly "live" performance to return.
George Gelles is a frequent contributor to the newsletter, writing primarily on music and dance. His most recent article, a book review on collected papers and reports of the late W. McNeil Lowry, titled "A Collection of Pieces by a Singular Patron of the Arts", appeared in the Fall 2020 issue of the newsletter. George worked in the Foundation's Office of the Arts from 1977 to 1981.