A Journey to Bismarck: Finding "Generosity of Spirit"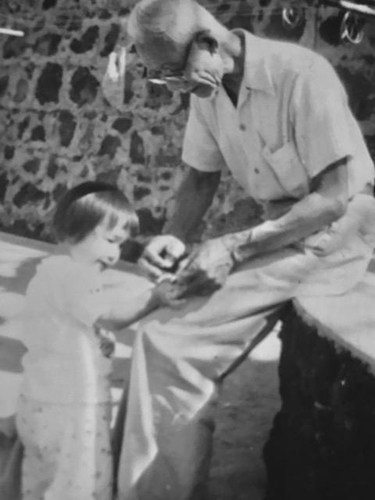 The author and her grandfather, George Kumemaro Uno.
I visited South Dakota for the first time in 2004
as part of my work in Arts and Culture at the Ford Foundation. I was building a cohort of grantees that was racially, culturally and geographically inclusive, anchored by leaders at the forefront of arts and social justice. The First Peoples Fund, located in Rapid City and headed by an extraordinary woman, Lori Pourier, an Oglala Lakota, was critical to this work as an exemplar of best practice, both in terms of Native American arts and intercultural issues.
But on this site visit I also had a personal objective, having never visited that area of the country. I added a personal day, with a purpose but no real plan.
Upon hearing that it was my first time in South Dakota, people asked if I would visit any of the famous landmarks. My answer, "I'm hoping to go to Bismarck", met with baffled expressions. After all, the Black Hills, Mt. Rushmore, the Badlands and more are in South Dakota—and Bismarck is a state away, in North Dakota. Naively, I thought I could rent a car and make a quick day trip. I had no idea what the distances, terrain or territories actually were. And everyone asked, "Why Bismarck?!?"
The reason was simple and profoundly personal: My grandfather, George Kumemaro Uno, had been imprisoned at Fort Lincoln in Bismarck during World War II. He was a larger-than-life figure to me as a child, an artist and an autodidact in many subjects. He was also a rare Issei (first generation Japanese American) grandparent who spoke and wrote impeccable English and expressed his love aloud.
When I told Lori that I hoped to find out where he had been during the war, First Peoples program manager, Randy Ross (Northern Ponca), offered to drive with me. Lori told me it was a long trip, but that Randy knew all the shortcuts. Our trip took us through Lakota territory, through Pine Ridge, Cheyenne River and up through Standing Rock, with Randy illuminating history, discovering we had mutual friends and swapping some good stories and laughs along the way.
The original Fort Lincoln, south of Mandan, was where Custer was stationed and rode out from for his infamous Last Stand. It was decommissioned in 1891 and a second Fort Lincoln was built in Bismarck in 1900. It has undergone dramatic transformations over time. During World War II, in 1941, under the administration of the U.S. Department of Justice Alien Enemy Control Program, it became a prison camp for some 1,500 Germans and 1,800 Japanese and Japanese American civilians classified as "enemy aliens". These non-combatants included people of German and Japanese descent who had been moved from South American and Central American countries.
In 1969, it became the home of United Tribes Technical College (UTTC), a Tribal Land-grant institution that for 50 years has educated more than ten thousand Native American students from 75 federally recognized Indian Tribes across the country.
At United Tribes, I met its inspiring president, Dr. David Gipp (Hunkpapa Lakota), a noted artist and faculty member, Butch Thunderhawk (Hunkpapa Lakota) and other members of the UTTC community. I shared that my grandfather had been imprisoned there and that I could not come close to the region without trying to find out where he had been. When he was taken into FBI custody after Japan's attack on Pearl Harbor, his wife and children had no idea of his whereabouts until a letter arrived postmarked Bismarck, N.D.
Dr. Gipp said that various older men of German or Japanese heritage occasionally came to visit, seeking their connection to what the place had meant for them during the war years. It was a history the college had learned more about when Laurel Reuter, head of the North Dakota Museum of Art, curated the Snow Country Prison exhibit the prior year, partnering with UTTC.
I was shown the remaining original buildings, including the former barracks on the campus. They had been adapted to college use, but there was still evidence of the past, particularly in the Japanese barracks where Japanese characters are etched into the bricks.
Laurel Reuter's curatorial breakthrough for the exhibit came when she met Satsuki Ina, the daughter of Itaru Ina, who wrote poetry during his captivity at Fort Lincoln and other concentration camps (Snow Country Prison: the Haiku Poetry of Itaru Ina). His beautiful haiku give insight into the suffering endured.
When I was shown where the barbed wire perimeter had been, I stood for a long while thinking how cold and bleak it must have been when my grandfather arrived in February 1942 in a deep North Dakota winter. I wondered if he looked west through the barbed wire aching for word of his wife and children. Itaru Ina expressed the yearning of many when he wrote, "In the field of white snow I starve for the love of my own people."
I thought of the cruelty of juvenile and family separation and my own father, Robert Uno, who would have been the same age during his incarceration. I also thought, with gratitude, about the difference in the lives of my daughter and son, enjoying high school and college at the time.
As I watched Hank Naito talk about his life between 14 and 18, being serially moved from Santa Anita racetrack assembly center near Los Angeles to the Heart Mountain, Wyo., concentration camp to the Tule Lake, Calif., Segregation Center to Fort Lincoln, I felt rage at the injustice and suffering endured by my family and all families, then and now, separated by incarceration and immigration detention. Through obtaining my grandfather's FBI file under the Freedom of Information Act, my family has learned of my grandfather's FBI apprehension and incarceration at Fort Lincoln, Lordsburg, N.M., and Crystal City, Tex. A part of the Uno family story was told in the PBS Asian Americans series in the episode, "A Question of Loyalty", a landmark PBS series, funded in part by the Ford Foundation (Asian Americans link on PBS).
My father was one of ten siblings, all U.S. citizens by birth, who spanned a range of responses to their country being at war.

Having experienced racism, the eldest brother renounced his American citizenship and became a journalist embedded with the Japanese Imperial Army; three brothers enlisted from the concentration camp to serve their country in the Army and Navy; their parents and younger siblings endured family separation while incarcerated, and two became outspoken rights activists.
My aunt, Amy Uno Ishii (Amy Uno Ishii oral history), was a housewife who assembled a carousel of slides and facts. She traveled to speak at schools, community groups and conferences to raise awareness. My uncle, Edison Uno (Edison Uno bio), called a founding father of Japanese American Redress and Reparations, was the first person to introduce the idea at a time when many Japanese Americans felt it better to remain silent about the racism they experienced and their wartime trauma.
The playwright Philip Kan Gotanda calls the WWII incarceration of Japanese Americans "the psychic scar of Japanese America", referring to a trauma even deeper than the abrogation of human and constitutional rights and the enormous economic loss of businesses and property.
In the Snow Country Prison exhibit video, internee survivor Max Ebel refers to a spiritual experience at the conclusion of the opening gathering (Snow Country Prison exhibit, Max Ebel 43:11). "I think my mind is a little clearer," he says. "I think the spiritual helped. I can go home now and be at peace." He found such solace when the UTTC hosts offered the formerly incarcerated men a traditional Lakota Washigila, a Wiping Away the Tears ceremony to release spirits of the dead and heal grieving.
I, too, owe a good deal of gratitude to the many people I met on that visit for helping me walk part of my grandfather's journey: to Lori Pourier, First Peoples, Randy Ross, David Gipp, Dennis Neumann, Twila Martin Kekahbah and the UTTC community. Time has taken its toll. Randy Ross passed away this past July. He was a co-founder of He Sapa Wacipi, the Black Hills Powwow known by thousands around the world. David Gipp died September 11. He was UTTC's president for 37 years, was founder of the American Indian College Fund and made a path to education for generations of Native American students.
My most vivid childhood memories of my grandfather are of sitting with him while he painted, watching magic emerge from each brush stroke. Leaving Bismarck, I thought I understood more about why, having been confined, he chose to imagine vast landscapes. I also left wondering what the world would be like if every military fort could be transformed into a tribal college or other place for healing the land and its people.
And I wondered what it would be like if we all had practices and language to wipe away the tears, and the generosity of spirit to extend that compassion to others.
Roberta Uno, who was a program officer and then Senior Program Officer for Arts and Culture at the Ford Foundation from 2002 to 2015, is director of Arts in a Changing America (ArtChangeUS), a national project on the arts and social justice affiliated with the California Institute of the Arts.