Gordon Perkin, a "Champion" of Global Health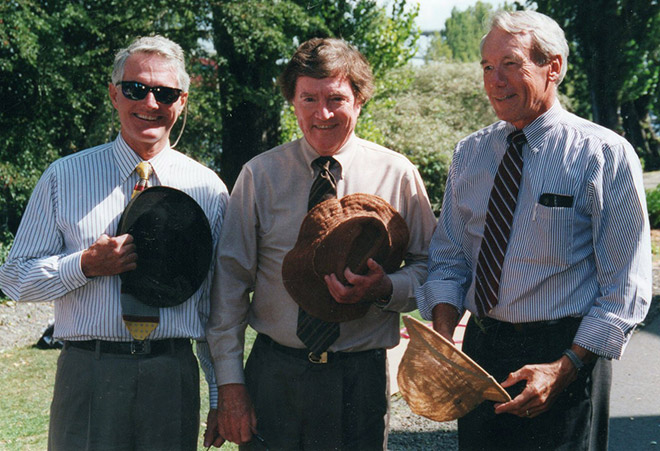 PATH cofounders, left to right: Rich Mahoney, Gordon Perkin, and Gordon Duncan. Photo: PATH
Gordon Wesley Perkin, a major figure in promoting family planning and international public health programs for more than 50 years, died August 21 at a retirement home in Seattle. He was 85.
He graduated from medical school in his native Canada and practiced medicine in rural areas in that country but had long been interested in reproductive health, which led him first to work for Ortho Pharmaceutical and then Planned Parenthood in New York City.
Mr. Perkin joined the Ford Foundation in 1966 after working with Planned Parenthood, and his interest and experience led to postings in Thailand, Ghana, Geneva, Brazil and Mexico.
In 1980, after 14 years with the Foundation, he assumed the presidency of PATH, an international health NGO in Seattle, which he had co-founded with two colleagues, Richard Mahoney of the Ford Foundation's Population office and Gordon Duncan of the Battelle Northwest Laboratories.
After overseeing the growth of PATH into a major international organization, Gordon moved to the Bill & Melinda Gates Foundation in late 1999, where he led the Global Health Program through its first several years. He retired in 2005.
The following is a tribute to the man and his work written for the newsletter by his colleague and friend, Richard Mahoney:
Global health has lost one of its greatest champions.
Gordon Perkin was a modest person who avoided the limelight, but his accomplishments were extraordinary.
During his long association with, and support of, Planned Parenthood, he recommended the Ford Foundation provide support for three regional offices that would coordinate fundraising from the U.S. Office of Economic Opportunity. This enabled Planned Parenthood to receive Federal funding for the first time.
During his time in Thailand for Ford, Gordon developed the first midwife family planning training program, which became a model for other family planning programs. In Ghana, he helped establish the first national family planning program in Sub-Saharan Africa. His assignment to Geneva was his first opportunity to work on the global stage, playing a key role in establishing the World Health Organization's Program for Research Development and Training in Human Reproduction (HRP). As a hallmark of his later work, HRP's strategy included forming networks of investigators in developing countries.
While in Brazil, Gordon helped establish PLAMIR (Latin American Program for Research in Reproduction), which brought important support to underfunded investigators throughout Latin America. In 1972, still in Brazil, he wrote Contraceptive Introduction, Manufacture and Supply (CIMS), a memo that first laid out the overarching strategy that would guide the rest of his career.
In the early 1970s, family planning was still a very nascent movement making slow progress in helping families decide the size of the family. Gordon saw that for family planning to reach success, it would have to ensure the introduction of new and existing contraceptives, their sufficient manufacture and their cost-effective supply. The CIMS memo led to an international feasibility study under the aegis of the United Nations Population Fund (UNFPA) and the leadership of Dr. Nafis Sadik, then Deputy Director General of UNFPA.
The feasibility study led to the recommendation to establish an international program charged with carrying out or facilitating the activities foreseen in the CIMS memo. An initial effort was made to add this program to existing organizations. Eventually, Perkin, Mahoney and Duncan concluded that a new organization was needed.
Under the guidance of the late Oscar "Bud" Harkavy, Program Officer in Charge of the Population office at Ford, the three prepared a detailed plan that the Foundation funded with a small start-up grant. Originally called PIACT (Program for the Introduction and Adaptation of Contractive Technology), this new organization gradually expanded its activities into health and assumed the name of Program for Appropriate Technology in Health (PATH). PATH has grown to be the largest international NGO concerned with health technology. Its budget is about $300 million per year with 75 offices throughout the developing world. PATH is an outstanding example of the capability of the Ford Foundation to initiate global change.
There were many major achievements by PATH under Gordon's leadership. It managed a major program to upgrade contraceptive manufacture in China to bring it to international standards. Peggy Morrow, who led that program, cited Gordon's unflagging support. "Gordon modeled a boldness, opportunistic in the best sense, in order to address real needs and to achieve the greatest impact," she said, "in this case, helping to establish 19 contraceptive factories providing safer, more effective contraceptives for over 50 million Chinese couples."
Also, during these years, PATH launched the International Task Force for Hepatitis B Immunization, which led to the initial successful efforts to deliver affordable hepatitis B vaccine to developing countries.
PATH developed, scaled and introduced many products designed to meet the needs of underserved communities and address outstanding challenges in maternal and neonatal health, immunization, infectious disease diagnostics and family planning. Some of these products, including Vaccine Vial Monitors (VVM), auto-disable syringes and delivery kits, altered standard practice in global health.
Debra Kristensen, who led the VVM effort, noted, "Despite his responsibilities as PATH's president, Gordon managed to have a detailed technical understanding of our many ongoing projects and successfully utilized 'management by walking around' to engage staff members at all levels of the organization. We welcomed his drop-in visits as his motives were clearly to learn more to support our work, which he effectively did when high-level engagement was needed with international agencies or collaborators. Gordon was a tireless and passionate advocate for innovations that promised to positively impact health in low resource settings."
Following months of informal discussion with William Gates, Sr., whom Gordon met through the Seattle Planned Parenthood affiliate, he was introduced to Bill Gates, then in the initial stages of laying out the strategy of what would be the Bill & Melinda Gates Foundation. Perkin convinced Gates to focus on health and, in particular, to support the development of such new health technologies as vaccines and drugs.
When Gates hired Gordon as the first head of the Global Health Program, he had a platform from which he could robustly follow through on the vision of the CIMS memo, but in all the high priority diseases in developing countries in addition to family planning.
He initiated the funding of several Product Development Partnerships (PDPs) for malaria, diarrheal diseases, tuberculosis and others. Again, these PDPs were organized around the principles of the CIMS memo, for in addition to product development they were concerned with introduction, manufacture and supply. To cite just three examples, these PDPs have led to the development, introduction and affordable supply of new drugs against malaria and new vaccines against cholera and meningitis.
Gordon's boldest initiative at Gates was to initiate funding for a global vaccine procurement mechanism that is today GAVI, an alliance of public and private organizations promoting immunization worldwide. The Foundation made two initial grants totaling $1.5 billion, and GAVI since has procured and supplied billions of dollars of vaccines that have saved the lives of millions of children and helped reduce infant mortality rates significantly.
Even after his departure, Gordon's vision was sustained at PATH with the creation of the Reproductive Health Supplies Coalition (RHSC), the largest reproductive health collaboration in the world. As noted by Jane Hutchings, who led its development, "The Coalition has critically changed the world of reproductive health supplies, and its emphasis on partnership is a clear reflection of Gordon's appreciation of and support for collaborative efforts."
One can draw a straight line from the CIMS memo to PATH to PDPs to GAVI and to the RHSC. Gordon's vision, conceived in the early 1970s while with the Ford Foundation, has changed the world.
Gordon served on the boards of Planned Parenthood Federation of America, Planned Parenthood of Western Washington, World Neighbors, Facing the Future and Terrewode Women's Fund in Uganda, among others.
In 2009, in recognition of his contributions, Gordon was appointed an Officer of the Order of Canada, one of that country's highest civilian honors.
Gordon's modesty was clearly shown in his eulogy to Bud Harkavy last September. He gave Bud the credit for making it possible for him to achieve what he did. Gordon wrote, "You were always supportive, encouraging and a great mentor. I learned much from your guidance and support. You were probably the most influential person in my life. I will be forever grateful."
Gordon is survived by his wife of nearly 63 years, Elizabeth A. Perkin, known as "Wib", as well as their sons, Scott and Stuart, daughters-in-law Mary and Crissy, and grandchildren Siena and Laurel.
His elder son, Scott, said, "Dad always felt it was possible for people to accomplish great things, if they didn't worry about who gets the credit."
Gordon lived his life that way.