Homage to Fazle Hasan Abed
By Marty Chen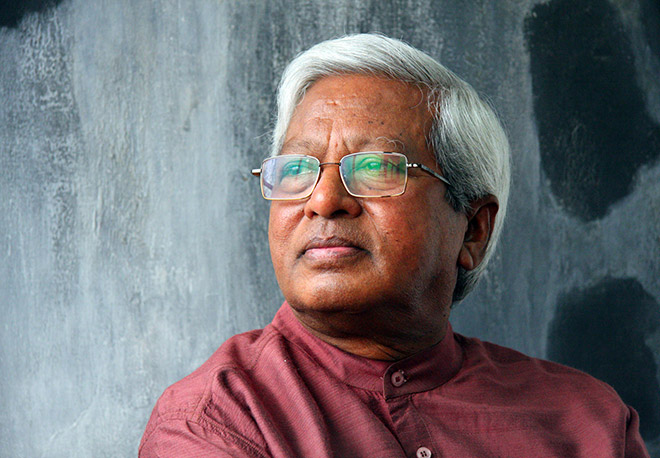 Sir Fazle Hasan Abed KCMG, photo by BRAC
My husband, Lincoln Chen, and I had the amazing good fortune of meeting Abed soon after we arrived in Dacca, East Pakistan, in July 1970. We also had no way of knowing that a series of crises in East Pakistan would shape Abed and our mutual lives: the Great Bhola Cyclone of November 1970, the Pakistani Election in December 1970, the Pakistan military crackdown in March 1971 and the Bangladesh Independence War that ended in December 1971.
Lincoln joined the Ford Foundation's Dhaka Office in mid-1973. Ford Foundation was an early partner with BRAC and has provided financial, technical and moral support over the years, starting with George Zeidenstein and continuing under Bill Fuller
,
Adrienne Germain
,
Ray Offenheiser and other representatives.
I cannot say how blessed I feel to have had Abed as my first boss and my lifelong friend. With Abed's first wife, Ayesha Abed (Bahar), I started BRAC's research unit and women's program, reviving sericulture, zamdani weaving and nakshi kantha embroidery, and starting other income-generating projects for women from poor households. As Abed reminded me, I was employee number 23 of BRAC.
Working for BRAC—with Abed, Bahar, Aminul Alam, Putul Hussein and others—shaped my career and my life, and that of my family. Lincoln and our two children, Greg and Alexis, have also had the opportunity to work with BRAC. We all consider Abed and his children, Tamara and Shameran, as family: our lives are so intertwined. It is, therefore, with deep affection and admiration that I write this tribute to him.
A Bengali intellectual, with an equal love of Shakespeare sonnets and Tagore poems, Abed was at heart a humanist with a deep commitment to reducing poverty, inequality and social injustice. Because of his accomplishments, Abed became friends with and is admired and beloved by many world leaders, from former President Bill Clinton to Bill Gates to George Soros to Amartya Sen. But Abed was equally at home with and beloved by villagers and slum-dwellers across Bangladesh and around the world.
A former corporate executive, Abed had a unique ability to think big but start small: diagnosing problems, testing solutions, building models of concrete interventions that could be replicated and taken to scale. When doctors at the Cholera Research Laboratory developed an oral rehydration therapy for cholera, a killer in Bangladesh, Abed developed a delivery system that took the solution to every family in the country, mobilizing and training village women as extension agents to train other village women on how to make the solution.
Abed was not afraid of taking risks. He was comfortable with failure and would learn from failed experiments. Trained as a chartered accountant, Abed was also comfortable with and could manage large sums of money. In the early days, before BRAC had grown significantly, he once told me, he could see all BRAC's spreadsheets in his head.
Abed also had a gift for seeing the potential and bringing out the best in those who worked with him at BRAC. Under his leadership, thousands of young people from Bangladesh and countries around the world have been trained to be thinkers and doers and given opportunities to serve their countries, including countless grassroots leaders and community workers.
Most central to the success of BRAC, though, has been Abed's moral compass, his humanity, that kept him focused on the problems of the poor and disadvantaged. He had a special concern for women and girls, for their health, education and empowerment.
There is no way to adequately sum up the accomplishments of BRAC under Abed's visionary and pioneering leadership. But the following figures provide some indication of the scope, scale and effectiveness of BRAC:
more than 100,000 full-time staff reaching 110 million poor,
annual financial turnover of more than $1 billion, two-thirds earned from BRAC-run social enterprises,
more than 33 thousand schools with 2 million children enrolled, more than half of them girls, and
$3.82 billion disbursed in micro loans to 6.2 million borrowers in one year.
To this, add the fact that BRAC International operates in nine other developing countries across Africa and Asia, from Liberia to Myanmar and the Philippines. It is no small wonder that, for several years in a row, BRAC has been recognized as the number one non-governmental development organization in the world, measured by innovation, impact and governance.
Marty Chen is a Lecturer in Public Policy at the Harvard Kennedy School and Senior Advisor of the global research-policy-action network Women in Informal Employment: Globalizing and Organizing (WIEGO).