Learning From Feminists Who Fund Themselves
By Tenzin Dolker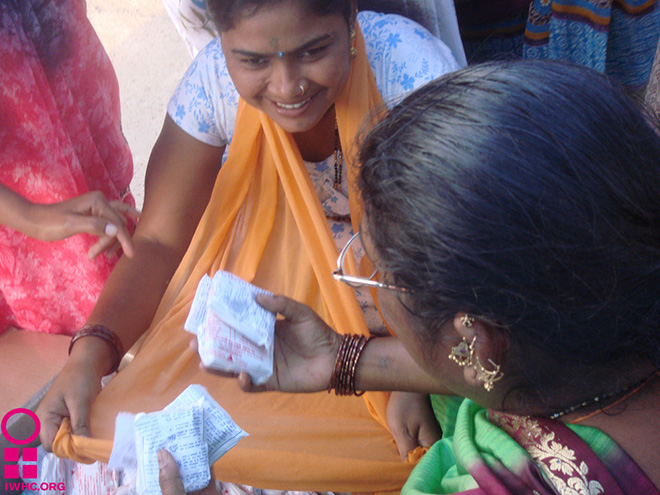 ___________
Condom distribution by sex workers in the red light district of Sangli, India.
Photo by International Women's Health Coalition (Creative Commons).
This article appeared originally on the website of OpenGlobalRights on January 15, 2019, and is reprinted with permission.
Now more than ever, feminist organizations need to deepen the search for autonomous resourcing models that work for our movements, on our own terms. Autonomous resourcing is one of the transformative ways in which movements are mobilizing financial, human and material resources that directly support the liberatory aims of feminist political projects.
A cooperative bank of over 20,000 sex workers in Kolkata, India, has provided over $4.7 million in loans to 7,231 sex workers in a span of one year, while a women's grantmaking organization in Kathmandu, Nepal, has mobilized over 600 volunteer ambassadors. These are only two of many examples where feminist groups around the world are sustaining their organizing through membership dues and crowdfunding. Women's rights and feminist groups are adopting new technologies and re-energizing long-standing organizing strategies to sustain their vital work. They also shine light on the political and financial power of what we call "autonomous resourcing".
The Usha Cooperative in India was founded when mainstream banks refused services to sex workers in Sonagachi for years. This forced many to rely on exploitative and predatory moneylenders that would charge over 300 percent interest rates, withholding their hard-earned income. Usha notes that, "Sex workers found themselves in deep economic debt and were compelled to engage in risky and unsafe work."
During the cooperative's work on sexual and HIV intervention programs, the sex workers self-organized to prioritize their economic concerns. From these meetings, they decided to set up their own financial institution to provide a safe and non-exploitative way to save and sustain their earnings.
Now, not only is Usha Cooperative sustainable, it has made economic rights real for sex workers and their families. With a membership entirely of sex workers, the bank provides real ownership and influence over the cooperative's governance and management, pioneering ways for individuals and communities on the margins to build economic power on their own terms.
This type of autonomous resourcing is one of the transformative ways in which movements are mobilizing financial, human and material resources that directly support the liberatory aims of feminist political projects.
While they may complement funding from institutions, income generation efforts, or other forms of financing, autonomous resources are distinct in three ways:
They hold no expectation or requirement external to movements themselves;
Mobilizing resources is itself movement-building: expanding a base of supporters, activating movement members, and ideally sustaining long-term relationships;
They offer movements the financial and political freedom to organize with agility and self-determination.
In short, these are resources generated by and for movements, centering their own power and priorities.
Many of the funds that do reach feminist movements are short-term or fail to meet the transformational and reality-changing work led by feminist movements on the ground and in communities around the world. While we continue to advocate for more and better funding for feminist movements, autonomous resourcing shifts our thinking and strategy beyond money and currency—one that centers trust, solidarity and relationships, the kinds of bonds fundamental for long-term and meaningful social change.
Autonomous resourcing ultimately brings the power to prioritize, set agendas and objectives back to movements. For example, groups such as Red Confiando en Mujeres in Chili, Association Fanm Soley Ayiti in Haiti and feminist networks and collectives such as Voice of Women Initiative and others that cultivate local sources of income, including from individual donors and membership dues.
Tewa Nepal is another example of how women are working to shift power and influence of their grantmaking to community members as their donors and ambassadors. Its model mobilizes a diverse range of resources to fund their women's rights grant programs: self-generated and autonomous funding is an important part of the puzzle and one that empowers grantees to play a donor role.
"Funds were raised from Nepalis for the community center, and our grantees, volunteers, staff and members have contributed," explains Tewa Nepal's Urmila Shrestha. The purpose is to "break power hierarchy" and "keep everyone on the same footing", she says. "Our grantee partners have become donors."
As previously explored on OpenGlobalRights, the organization has created a fundraising volunteer program, mobilizing over 600 individuals as ambassadors who fundraise and organize on various women's rights issues in the country. This kind of resourcing strategy has the potential to not only bring in crucial funds but also to open the conversation and center inheritance, property and land as critical local women's rights issues.
Strategizing to sustain our movements is not a new challenge for social change and human rights actors. Activists have always brought their own skills (often unpaid or underpaid), knowledge, connections and personal financing to social change. Different resourcing models have been explored and utilized and in combination over the years to fund the issues they consider critical. "We want to be independent and define our own priorities… [and] use less external funding and explore solidarity economy to be financially independent", explains Yldiz Temurturkan, a feminist activist from Turkey.
There is a critical need now more than ever for feminist movements to deepen our search for autonomous resourcing models that work for our movements, on our own terms. Of course, there are also real concerns about the kinds of trade-offs movements would have to make when relying solely on autonomous resources, such as larger resources that come with other sources of grants. Given the flexibility of autonomous resources, feminist groups are organizing across movements to co-fund various movement activities leveraging strategic partnerships with unions, political parties and other community groups.
The examples shared here are sparking growing interest that asks a crucial question around how to sustain our movements while taking stock of old organizing models that can help us innovate new modalities and practices for resourcing to co-create transformative feminist realities.
AWID is working with our partners to generate a conversation to amplify models (including those enabled by technology) and positing the need for an understanding of these resources as a financial and political proposition.
If you are interested in being part of conversations to strategize around how we can support feminist movements to generate more autonomous resourcing contact AWID.
This article owes a debt of gratitude to the many feminist activists who have offered their time and insights about how they resource their organizing. The author is also grateful to AWID staff who contributed to this article, particularly Kellea Miller, Nana Darkoa Sekyiamah and Laila Malik, and to Fenya Fischler and Kamardip Singh, whose interviews and previous work laid the foundation for this analysis. This article is part of AWID's larger research on autonomous resourcing for feminist social change.
Tenzin Dolker is resourcing feminist movements coordinator at the Association for Women's Rights in Development (AWID). She worked at the Ford Foundation from 2013
to 2015 as a program analyst in its Rights and Governance Unit in the Democracy, Rights and Justice program, and was a program officer at Machik.