New LAFF Presidents: Meet Them March 21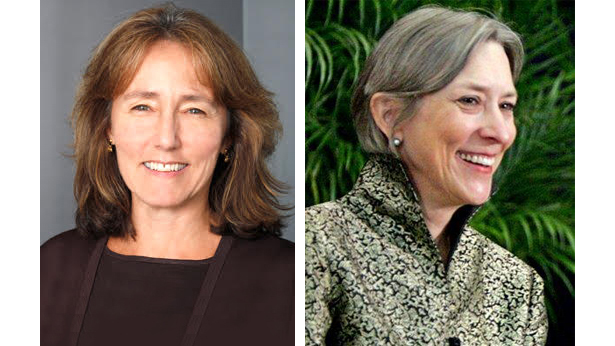 Betsy Campbell and Suzanne Siskel
Betsy Campbell and Suzanne Siskel will assume the office of president of The LAFF Society effective January 1, the seventh and eighth members to lead LAFF in its 27-year history and the first as co-presidents.
They succeed Shepard Forman, who has been president since 2009.
"Coming on ten years as president of LAFF," Shep writes in his last message to the members, which appears on page 3 of this issue, "it is time to recognize the extreme privilege and honor it has been to serve, to welcome Betsy and Suzanne and wish them well, and to return to active membership.
"The question that leads me now to turn the LAFF presidency over," he writes, "…stems precisely from the social equation that has bound me to the Foundation and held LAFFers together for more than a quarter century: How can current members' interests be met and new members recruited in the face of the changed philanthropic and social landscape and so many alternative allegiances?"
LAFF's first president, at its inception in 1991, was Edward J. Meade, Jr., one of the Society's founding members. Others have been Oscar Harkavy, in 1994; Siobhan Oppenheimer Nicolau, in 1997; Emmett Carson, in 2002; and Peter Geithner, in 2005.
Betsy and Suzanne have been vice presidents since 2014, working, as the executive committee defined their positions at the time, to "build a more secure institutional platform to better serve our… members, to reach out to new members, regionally and demographically, and to recruit a younger cadre of former Foundation staff members".
Campbell was tasked with working on institutional development and membership issues, and Siskel with working with the Society's eight chapters to help strengthen programs and outreach, particularly among members on the west coast and in Asia.
Campbell, who is the vice president for programs at the Rockefeller Brothers Fund in New York City, worked at Ford from 1991 through 2003 in Asset Building and Community Development and in the Rural Poverty and Resources program.
Siskel, executive vice president and chief operating officer of the Asia Foundation, worked at Ford from 1990 to 2011 in the Jakarta and Manila offices and in the Community Resource and Development, Social Justice Philanthropy and Gender, Rights and Equality programs.
The new officers will meet members at a LAFF gathering scheduled for March 21 at the Foundation's renovated headquarters in New York City, which re-opened in November as the Ford Foundation Center for Social Justice.
"As the new name suggests," said Ford's president, Darren Walker, "the building will be a unique asset for champions of social justice across sectors and geographies—a vibrant, fully accessible hub with 54,000 square feet of meeting space for grantees and nonprofits advancing change in the United States and globally."
In an "open-plan design", the Ford Foundation will occupy half the total floor space, "allowing us," said Walker, "to double the previous amount of convening space and welcome our three tenants and their visitors".
Those "tenants", who share space in the building, are the United Nations Foundation, Philanthropy New York and the Nonprofit Coordinating Committee of New York, "three organizations that contribute to strengthening the social sector locally and globally," Walker said.
Describing it as a "mission-driven building", Walker said the headquarters will be "more open to the public, including our landmarked atrium garden, an art gallery where visitors can discover artists whose work engages issues of justice, and a state-of-the-art auditorium with an enlarged stage to host a range of cultural programming, including documentary films".
Members will be able to tour the building at the March 21 gathering and attend a reception, at which Walker will speak.