Meeting the Challenge Of Executive Turnover
By Frances Korten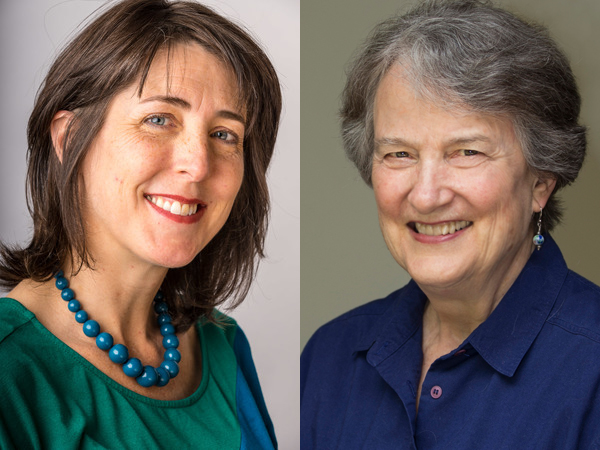 Christine Hanna and Fran Korten
One of the great challenges facing the nonprofit world is turnover in executive directors. An Anne E. Casey Foundation study in 2004 found that 75 percent of nonprofit executive directors planned to leave within five years. Trends indicate that the retirement rate has accelerated as the baby boomer cohort ages.
Our country and the world need a vibrant nonprofit sector. Good leadership transitions must be a part of keeping the sector strong.
Many of the readers of this newsletter hold nonprofit leadership positions, are on nonprofit boards or consult with nonprofits. Navigating leadership transitions, unfortunately, do not always work out well. So, my retirement as head of YES! Magazine prompted me to consider the lessons we learned in managing my transition.
I became executive director of YES! Magazine in 1998 directly after serving 20 years as a Ford Foundation program officer (five-year stints in the Manila, Jakarta, Manila again, and then the New York offices). When I took the YES! position, my husband, David Korten, and I moved from New York City to Bainbridge Island, Wash., where YES!, a fledgling start-up with an uncertain future, was located. I had been convinced by the board, which included my husband as chair, and YES! executive editor Sarah van Gelder, that this was a great opportunity to inspire people to build a future that could work for all.
Over the years, with strong leadership from staff and board, I guided YES! (with modest but crucial long-term support from the Ford Foundation) to become an award-winning, multi-platform media organization that provides millions of people ideas and actions for creating a more just, sustainable and compassionate world. Our budget grew 10-fold in the years that I headed the organization, to $2.4 million annually.
In 2012, I informed the board that I wanted to retire within the next five years. By 2016 the board was ready to tackle the challenge. All of us approached the task with trepidation. We each had experience with executive-director transitions that had turned out badly, and such horror stories appeared to be more the rule than the exception. We didn't have an internal candidate to take the job, so we had to recruit from outside, with all the pitfalls that route can entail.
We did, however, have conditions that boded well for the transition.
First, I was ready and willing to step down. At age 75, I was not planning to jump to another job, so I was flexible about exactly when I would leave.
Second, our organization was in great shape: strong financially, with a large and passionate audience, a broad base of donors, a committed and cohesive board, and a talented staff, ambitious to broaden the organization's reach and influence. Our transition was propelled not out of crisis, but as a chance to welcome new leadership who could build from strength.
We found ourselves making a series of strategic choices, informed by a combination of advice from our board and staff, a professional in talent acquisition (my son-in-law, Lorne Epstein), other outside experts, and relevant nonprofit literature, including the Nonprofit Quarterly's series of webinars on executive transitions.
An initial choice was whether to hire an outside recruiting firm. As a values-based media organization, we had a ready capacity to reach our large and passionate audience. We also assumed that a person who would fit our culture and advance our mission would very likely already be in our broad circle. That meant we could find the right candidate through our own networks without the use of an outside recruiter.
Some boards keep the recruitment and hiring process entirely to themselves. We knew of cases where the board had excluded the current executive director from the process, even when that person was viewed as highly successful. This looked like a key factor in those cases' failures. In contrast, we wanted to mobilize our entire staff to help with recruitment. And even though only the board would make the final decision, we wanted to hear the staff's views. Their involvement turned out to be a key factor in our success.
In February 2016 the board formed a board-staff Transition Committee comprised of myself and two other staff members; our board vice chair, Gideon Rosenblatt, a former nonprofit executive director; and three board members, all of whom had experience with nonprofit leadership transitions. The committee met at least monthly from February 2016 through June 2017. To keep everyone fully informed, the committee distributed meeting notes to all board and staff.
Many job descriptions contain a straightforward elaboration of the job's purpose, responsibilities and desired qualifications. We found that format too perfunctory. We wanted to convey the excitement of the opportunity to make a difference in the world and the potential for great achievement ahead, as well as provide a realistic picture of what the job entailed.
Many of us assumed we would inform our various audiences about the job opening over a period of months. But Gideon recommended a blitz strategy in which we would announce the job on all our platforms within the same week. He wanted potential candidates to hear about the job from several sources in quick succession and hoped that would prompt people to apply or alert their friends, further expanding our circle.
So, on May 16, 2016, we announced the job on our website, in a stand-alone email, on Facebook and Twitter, and in the print magazine that was about to arrive in subscribers' mailboxes. Those platforms reached roughly a half-million people.
Our pool of candidates could simply have been those who responded to our job announcement. That is common practice. It means that candidates are actively looking for a job. But we felt our ideal candidate could be someone not looking for a job. So we encouraged staff and board to think about people who would be well-qualified and contact them. Staff and board used Facebook Messenger, Spark, Twitter, LinkedIn, email and phone, contacting hundreds of people.
By July, we had 66 qualified candidates. We applied five criteria, including skills and personal attributes, to narrow the field to 10. Once we got to know them, it turned out that only one of our top 10 candidates was a person of color.
We knew the broader audience that had received our job announcement contained many people of color, and we had personally reached out to many people of color in our network. But clearly that had not been sufficient to attract top-notch applicants. In retrospect we realized that we should have used our proactive strategy in a much more targeted way. In subsequent recruitment efforts for other positions we have much more actively enlisted the help of colleagues of color to reach out to others who might be interested —and that has worked.
Over July and August, I maintained regular phone contact with the top 10 candidates to make sure they knew we were interested. One advisor told us not to worry about harassing our candidates; they will be glad to hear from us. And it turned out they were.
Gideon, Clo Copass—our staff member in charge of recruitment—and I did a one-hour Skype interview with each candidate. Our questions addressed the five criteria, and after each interview we independently wrote up our impressions. We shared our write-ups with the full Transition Committee. In late August, the Committee selected four candidates. Two of the four stepped out of the running and we were down to two.
To maintain good relations with the people we had not chosen, I called each of them. Everyone was extremely gracious.
We wanted as full a picture as possible of our candidates, so chose to learn from many avenues, even though we were burdening our candidates and ourselves. We asked them to do two written exercises because we had learned in other recruitments that written exercises help avoid the "charm" factor that can be a pitfall of interviews alone. We called the references the candidates gave us, and also called other people who might help us understand the candidate's fitness for this job.
We had each candidate talk in person or via Skype with every board member and each spent a full day in the office with staff. We had an outside firm do a financial and criminal background check, a step I felt uncomfortable about as it seemed intrusive. But we agreed we would be sorry if we didn't do it and something bad came out after hiring.
Our nonprofit structure called for the final choice to be made by the board alone, but we also wanted to hear from key staff. So, at the October 2016 board meeting, the board, the senior management team, and all Transition Committee members discussed our two leading candidates. By the end of the meeting, the board voted unanimously for Christine Hanna.
Christine would not have applied for the job if we hadn't used a combination of the recruitment strategies described above. Through our blitz job announcement strategy she had heard about the job from multiple sources, but she was happily employed at an organization she had founded—the Seattle Good Business Network—so did not think the announcement was personally relevant. Then, because of our proactive recruitment strategy involving all staff, our development manager, Robin Simons, reached out to Christine. Robin had once worked for her at another nonprofit and so, even though Christine was not interested in the job, out of courtesy to Robin she opened the job description attached in Robin's email. And that's when our approach of writing an exciting job description paid off. She later told us that her heart beat faster as she thought about the possibilities. And as she read the qualifications, she said to herself, "that's me".
In any nonprofit, the successful transfer of organizational relationships from the previous to the new executive director is crucial to the organization's health. After 19 years as executive director, I had deep relationships with most of the people important to the organization. Thus, as soon as Christine agreed to take the job, I began connecting her to these key players.
I sent emails to our most important donors, telling them of my enthusiasm for my successor and encouraging them to communicate directly with her. Christine and I attended a conference where I introduced her to some of our key foundation supporters, and also made appointments with several individual donors. She began to contact staff and in January spent a full day at the office.
There is debate in the literature about whether the new and old executive directors should overlap or make a "clean cut", in which the old executive director bows out as soon as the new one starts on the job. We decided on a hybrid model.
In terms of authority, we made a clean cut. On March 1 of this year, when Christine became Executive Director, she was immediately in charge of all aspects of the organization. My title shifted to Advisor. She and I had been having weekly calls over the previous five months, so she knew a lot about the organization and I had great confidence in her abilities. The immediate transfer of authority signaled to the world our confidence in our new director and avoided any confusion among the staff as to who was in charge.
But I did not immediately bow out. I remained on the payroll as Advisor for three months. I drafted foundation reports and proposals, helped organize a donor welcome party for Christine, and helped put on a major fundraising breakfast and my own retirement party (yes, another fundraiser).
I trimmed 19 years of accumulated papers down to the most crucial documents and ensured that key electronic documents were in our organization's SharePoint system. In our weekly meetings, Christine and I reviewed organizational issues and reports relevant to her immediate next steps.
By my relieving Christine of those tasks, she had time to meet with each team and hold 90-minute one-on-one sessions with each staff and board member. Her skills in asking questions and listening deeply meant that those meetings established high trust with all involved. They also gave her a chance to assess the strengths, needs and future directions of the organization.
By the end of May, just a year after we launched our recruitment process, I stepped down as Advisor and Christine and I ended our weekly meetings, though I remain on call. The Transition Committee held one last meeting in June and declared success.
Only time will tell whether this transition will succeed and the organization will thrive. For now, all signs say that it will.
Fran Korten wrote this article especially for the LAFF newsletter. She can be reached at fkorten@yesmagazine.org