Richard Magat, LAFF's Co-Founder, Dies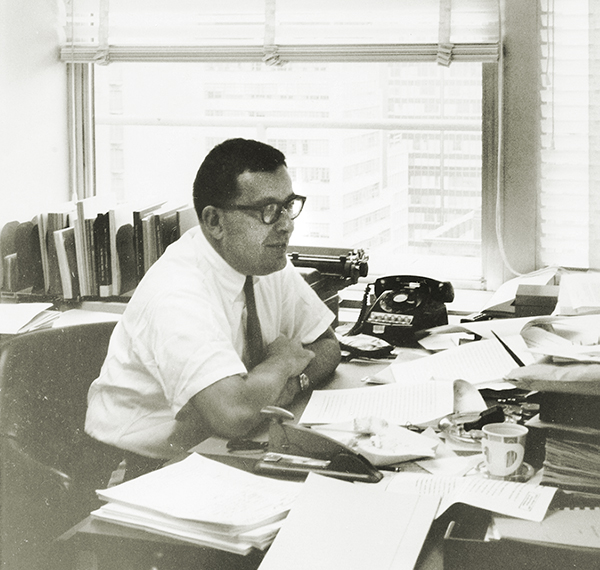 Dick Magat at his desk at Ford...
Richard Magat, co-founder of The LAFF Society and for 25 years director of the Ford Foundation's Office of Reports, died March 13. He was 90 years old.
A memorial service and brunch will be held Sunday morning, April 30, at 11:30 at 1214 Fifth Avenue in New York City. The entrance is on 102nd Street, east of Fifth Avenue. LAFF members are invited to give remarks during the service.
Dick Magat ran what is now the Office of Communication with a commitment to professionalism and openness that led to leadership roles in major critical issues of the time and earned recognition for work he did well beyond his position at Ford.
In the foreword to a study Dick conducted of the Foundation that was published in book form in 1979, The Ford Foundation at Work, McGeorge Bundy, president of Ford at the time, wrote, "He has made our Office of Reports a model of responsibility and integrity, and I think readers of this study will understand why he is respected and trusted both inside and outside the Foundation."
Bundy noted that the study was intended to deal with the Foundation's "shortcomings, unrealized hopes, miscalculations, and downright blunders, as well as with what we regard as achievements." It was a history of the Foundation's previous 25 years, when it was developed into a national and international institution, and a perspective on "the great needs that might lie ahead in the next decade and a half, and where and how the Foundation might address them."
As a testament to Dick's abilities, Bundy said the book "…is as faithful a representation of what the Foundation thinks about itself as one can get in the circumstances."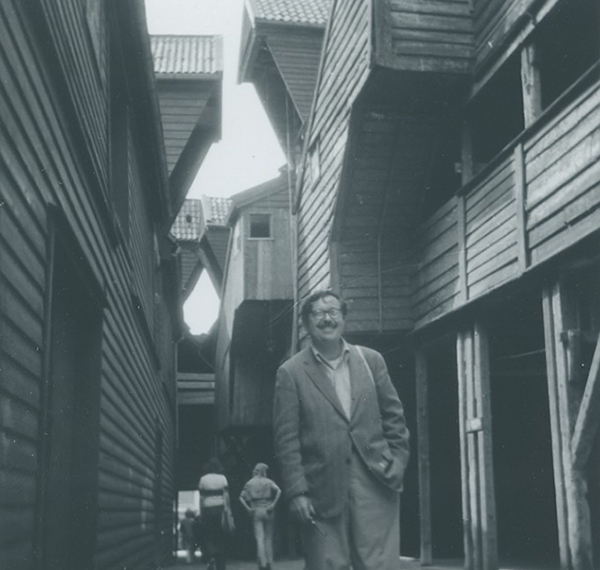 ...on one of his trips abroad and...
Dick's vision for philanthropy itself was summed up in an interview with The New York Times when, having retired from the Foundation in 1982, he was named president of the Edward W. Hazen Foundation.
"There's no special virtue attached to a large foundation or a small one," he said, "to a local foundation or one of national and international scope. Each earns its character by its work. It's hardly possible for any foundation not to do good. The test is to do the special good that its independence and flexibility make possible."
In 1991 he and the late Edward Meade, Jr. came up the idea of a Ford alumni group.
"….for many of us," they said in a statement then, "our time at the Foundation was a significant part of our lives and the colleagueship there contributed to us in many ways. These persons were interested in reconnecting; hence we created the Life After the Ford Foundation Society."
It was, he later said, an effort "to fill the gap of memory".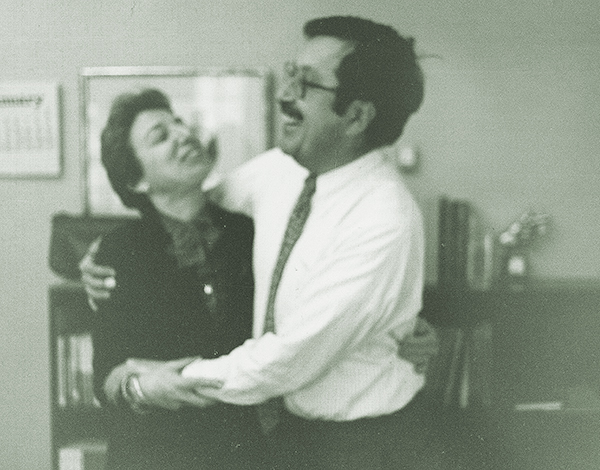 ..."great fun to be with" (Photos courtesy of the Rockefeller Archive Center)
Dick recounted the early days of LAFF, which did not always have the support or cooperation of Foundation officials, in a talk at the Society's twenty-fifth anniversary gathering at Foundation headquarters last spring that was, true to the character of the man, historically instructive and wryly humorous. His talk was published in the Summer 2016 issue of the newsletter, which he helped create and then edit through the years.
Dick joined the Foundation in 1957 as a writer in the Office of Reports and was named its director 18 months later. He oversaw an office that prepared press releases and various Foundation publications, including its annual report; recommended public reports on the Foundation's activities; and maintained contacts with newspaper and magazine editors and with public officials, including Congressmen.
But his skills as a writer and editor drew him into other orbits, in the Foundation and outside it.
During the difficult struggle to decentralize New York City's school in the 1960s, when vehement confrontations were common, he was a special assistant to the mayor's panel created to study and implement the school plan and edited its proposal, "Reconnection for Learning".
He also spent a year in Geneva, Switzerland, in the early 1970s, on sabbatical from Ford, to serve on the Joint Committee on the Reappraisal of the Red Cross, and edited its report.
At the end of 1969 he played a major role in what he described as "l'affaire F.O.R.D." A small organization in California, calling itself Families Organized Against Revolutionary Donations, began a campaign calling for a boycott of the Ford Motor Company and its dealers because of the work of the Foundation, and of many Ford-funded organizations.
Dick worked closely with executives of the company, some of its dealers and such organizations as the American Jewish Committee and the Lawyers' Committee for Civil Rights Under Law, described by F.O.R.D. as "a group of Communist oriented lawyers".
He developed facts sheets on the Foundation's work for distribution to those assailed by the group, met with representatives of the Ford company and its dealers, with officers of funded organizations, and with Foundation lawyers. He kept Foundation officials apprised of developments through a stream of detailed memos until the attacks fizzled out.
Dick was born in New Haven., Conn., and grew up in the Bronx in New York City, where he graduated from DeWitt Clinton High School. He earned a bachelor's degree from New York University and began his career as a journalist in 1947 at The Dayton Daily News in Ohio.
Following a stint as a reporter for The Binghamton (N.Y.) Sun he was an editor in the Technical Writing Service of the McGraw-Hill Book Company, a script writer for Paramount News, and senior news writer in the Office of Information Services at New York University before joining the Foundation.
He was one of more than 500 applicants in a year-long search by the Hazen foundation before being chosen as its president. Hazen is a small institution in Connecticut dedicated to "supporting organizing and leadership of young people and communities of color in dismantling structural inequity based on race and class". It supports grassroots groups and community organizations working in public education and youth development.
While at Hazen he initiated the first study of black philanthropy in cooperation with the Joint Center for Political and Economic Studies.
He had over the years been a senior consultant to the Council on Foundations, a visiting fellow at Yale University's Program on Nonprofit Organizations, a visiting fellow at The Foundation Center, and editor-in-chief of the Landmarks in Philanthropy Project for Harvard University's Hauser Center on Nonprofit Organizations.
He also served as vice chair of the National Council on Crime and Delinquency, and was a consultant for the German Marshall Fund, the Russell Sage Foundation and Catholic Relief Services.
As a writer, in addition to the Foundation history, he wrote the book Unlikely Partners: Philanthropic Foundations and the Labor Movement, and wrote for a variety of publications, including Saturday Review, Consumer Reports, Trans-Action and numerous journals.
Through all the professional assignments, though, he found time to nurture a more contemplative aspect of his nature.
"I knew him at work at the Foundation in the 1970s as a consummate professional," remembers Sheila Avrin McLean, who worked in the Foundation's international division and Office of the Secretary and General Counsel, "but actually knew him best through an unusual personal connection.
"I saw an advertisement on a Foundation board about a rental house in East Hampton. My husband and I rented the house, twice, I believe. It was Dick's and Gloria's gem of a little beach house on the big bay. The experience of his charming, understated way of life revealed the Hamptons to us as a haven.
"Eventually we bought our own house and Dick and I talked about the simple pleasures of beach walks and sunsets over water. I always found him a warm and empathetic person."
Dick Magat is survived by his wife, Gloria, to whom he was married for 68 years; his son, Gordon; his daughter, Claudia; and three grandchildren, Dylan Keenan, Sam Keenan and Daniel Magat.