A Night at the Theater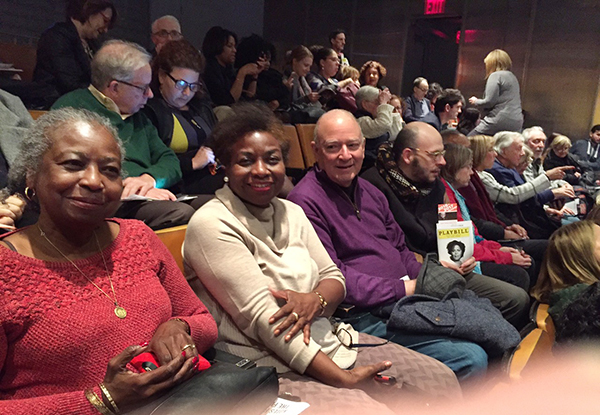 Natalia Kanem, in the white sweater, worked at the Foundation for 13 years in Nigeria and New York and now is the Assistant Secretary-General and Deputy Executive Director (Programme) of the United Nations Population Fund. On her left is Elan Garonzik of Elma Philanthropies. Photos by Michael Seltzer.
Members of LAFF's New York chapter attended a performance in December of the acclaimed one-woman show by Anna Deavere Smith, "Notes From the Field".
Some 30 members, their friends and staff of the Ford Foundation were at the Second Stage Theater in New York City for what one critic called a "wonderfully energizing" performance by the "American theater's most dynamic and sophisticated oral historian".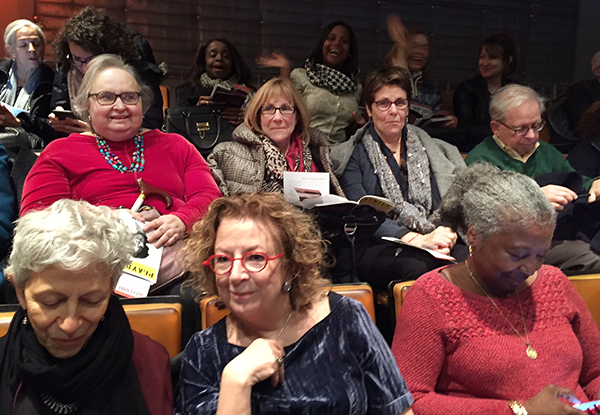 Deborah Bloom, upper left, worked at the Foundation in Program Services for 35 years before retiring in 2014. In front are, left, Toby Volkman, a former program officer now with the Henry Luce Foundation, and Leni Siverstein, who worked in the Rio de Janeiro office and now is a consultant on reproductive issues.
The play was described by Ben Brantley of The New York Times as a study of "the cursed intersection of two American institutions, the school and the prison, in a racially divided nation".
He said, "Ms. Smith assumes the identities of 19 individuals…to ruminate and ramble on topics that have made devastating headlines in recent years, including the 2015 death of Freddie Gray at the hands of Baltimore police officers and the slaughter of African-American churchgoers in Charleston, S.C., that same year….She creates a dialogue out of monologues among souls who, in real life, might never have occasion to speak to one another."
Throughout the two-act play, he wrote, "we find ourselves connecting the dots between academic theories—from a psychiatrist, a judge, a mayor candidate—and the messy immediacy experienced by those who have been among the war zones of the streets and the schools."
While her tone may be "less confrontational and more conciliatory" than earlier works about urban riots, "She wants to leave us with a spark of hope here….she also wants us to leave angry, and restless, and aware that the conversation being conducted isn't anywhere near completion."
A review in Time Out New York called the play "audacious and mind-opening". In it, it said, "her probing intelligence and fair-mindedness retain a tangible presence, assembling the monologues like puzzle pieces to form a larger picture".
But while the picture she paints is "often bleak", said the reviewer, she also "suggests the possibility of positive change through a combination of compassion, resources and discipline. She holds her subjects in a tough but loving embrace."