Fazle Hasan Abed, Founder of BRAC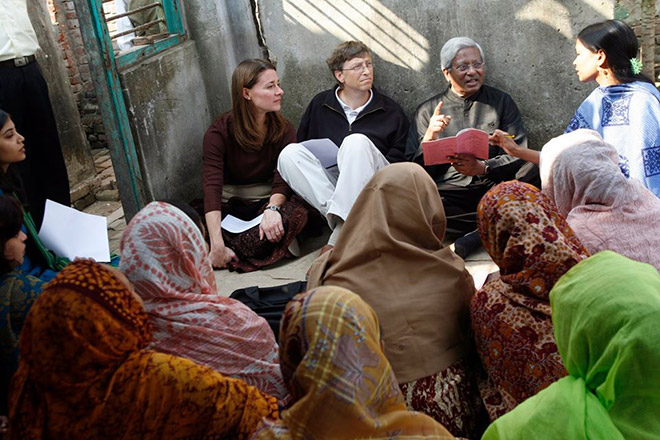 Fazle Hasan Abed (center right) with Melinda and Bill Gates.
Fazle Hasan Abed, founder of BRAC, one of the largest nongovernmental organizations in the world with 110,00 employees working in 11 countries to meet the needs of some 100 million people, died December 20 in a hospital in Dhaka, the capital of his native Bangladesh. He was 83.
Mr. Abed was an executive for the Shell Pakistan oil company in 1970 when a devastating cyclone struck, killing more than 300,000 people and leaving millions homeless. Stunned by the destruction, he and friends began a relief effort.
Soon after, when civil war erupted between East and West Bangladesh, he was moved again to provide relief for the millions of refugees and to support the liberation of Bangladesh from Pakistan.
"The importance of having a good life, doing work in a multinational organization, seemed quite immaterial to me at that point," he told an interviewer for the BBC in 2016.
He created the nonprofit Action Bangladesh and then, with money from the sale of his apartment in London, where he had gone to school and had been living when he went to work for Shell, he created the Bangladesh Rehabilitation Assistance Committee in 1972 and returned to Bangladesh, this time to stay. His organization had several name changes over the years, including Bangladesh Rural Advancement Committee, but was always known simply as BRAC.
The organization received funding from the Ford Foundation in its early years, both with direct grants and by helping arrange financing and consulting services from other organizations. But much of BRAC's work has been self-supporting, primarily with funds from a series of social enterprises, including a commercial printing press and a handicrafts retail chain, Aarong.
"Its investments in a variety of socially-oriented commercial ventures, such as BRAC bank, have further enhanced its internal income generating capacity, which has enabled it to expand its programs to reach even larger numbers of the deprived," said Rahman Sobhan, chairman of the Centre for Policy Dialogue, in a tribute at Abed's death.
"Abed's exposure to the human consequences of acts of violence by man and nature persuaded him to invest the rest of his life in helping not just the victims of devastation but those whose entire life is engaged in coping with the uncertainties of nature and the injustices of society," Sobhan wrote.
From its initial relief efforts, BRAC has grown to provide expertise over a broad spectrum of community development, including agriculture, fisheries, rural crafts, adult literacy, health and family planning, and the construction of community centers. Major emphases have been gender equality and primary education, providing basic skills through thousands of non-formal schools in poor, rural and disadvantaged areas.
One of BRAC's most comprehensive efforts has been the Women's Health Development program, begun in 1991. Its focus has been on creating awareness of legal issues regarding the status of women, decreasing violence against women, and creating public health measures designed to lower the death rate among children. Most notably, it taught millions of mothers how to make and administer an oral solution that combats diarrhea, lowering the death rate from about one in four to 40 of every 1,000 children.
Abed and BRAC received early support from a series of Ford representatives, among them George Zeidenstein, Bill Fuller, Ray Offenheiser and Adrienne Germain. "Abed and BRAC demonstrated that rigid conventions about women's 'proper place' could be softened," said Germain, who became Ford's representative in Bangladesh in 1981, "and effective programs developed with and for them. In these efforts, as in others, Abed's open and creative mind enabled deep and lasting innovation."
His leadership, said Germain, "along with that of a few other influential men in various countries, helped women initiate a new era of recognition and action for women's rights across the Global South."
Mr. Abed was BRAC's executive director until he retired in 2001, and chairperson of its International Board until he stepped down late last year.
He received numerous honorary degrees and awards during his 45 years of working to help the disadvantaged, including the Olaf Palme Prize, the Ramon Magsaysay Award for Community Leadership, the WISE Prize for Education and the World Food Prize. He was knighted by Queen Elizabeth II of England in 2010, the only Bangladeshi to receive that honor.
Mr. Abed was born in 1936 in what was then Bengal Province of British India. His parents were prominent landowners. He studied naval architecture at the University of Glasgow, transferring later to the Chartered Institute of Management Accountants in London. He returned to Bangladesh as a Shell executive in 1968, a move that, as witness to several cataclysmic events, changed his life.
He is survived by his third wife, Sarwat Abed, a daughter and son, a son-in-law and daughter-in-law, and three grandchildren.