Norman Collins, Prominent In "Green Revolution", Dies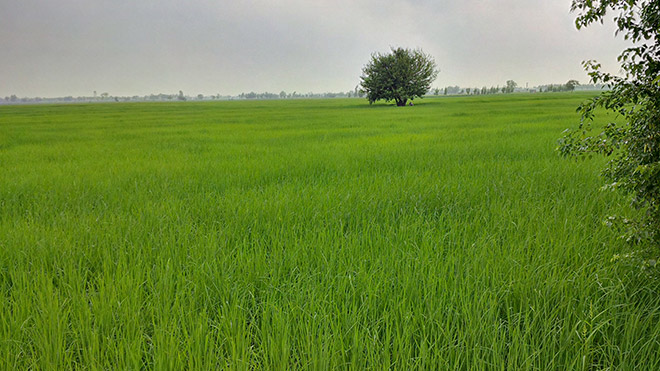 The state of Punjab led India's Green Revolution and earned the distinction of being the country's bread basket. Photo by Jaspinder Singh Duhewala.
Norman R. Collins, a major figure in agricultural research whose work at the Ford Foundation for more than 30 years helped develop advances in food production worldwide, died December 10 at his home in Greenwich, Conn., at the age of 90.
Dr. Collins joined Ford in 1969 as a program advisor in the Chile office after many years as a college professor in this country and abroad, focusing on agricultural economics. He had earned a bachelor's degree in that field from Kansas State University and both a master's degree and doctorate in economics from Harvard University, where he studied under John Kenneth Galbraith.
He held many positions at the Foundation until he retired in 2000, including program advisor in New York and New Delhi, program officer in and then director of the Rural Poverty and Resources program, representative in Mexico and director of the Special Project on Program and Information Technology.
Among the many tributes at his death, it was noted that "he strove passionately to make the world a better place by reducing poverty and hunger."
That passion was focused most notably on efforts to improve crop yields in several cereal grains through a broad program of research and application that was known as the Green Revolution. He was one of its earliest advocates and practitioners, helping make India's Punjab region self-sufficient in food production during his time as a program advisor to Ford's work in that country for four years in the late 1970s.
He also served on the board of the International Rice Research Institute in the Philippines, which fostered efforts to grow rice more efficiently and then teach farmers around the world how to plant the new strains and manage their growth.
Dr. Collins served in the United States Air Force during the Korean War and began his academic career at Kansas State University. He moved on to the University of California at Berkeley where he became a professor of agricultural economics and business administration and began to work internationally.
He received a Fulbright scholarship to be a visiting professor at the University of Naples, and lectured at universities in Yugoslavia and Poland. He started on the path that led to his pioneering work at Ford when, as part of a collaborative program between the University of California and Chile, he spent four years as a visiting professor at the University of Chile and that country's Catholic University.
Dr. Collins is survived by his wife of 67 years, Dolores; two daughters, Janet Drumm and Gail Khosla; a son, David, and six grandchildren.
"Food security and ending poverty were always Norm's primary focus," wrote Charles Bailey in a tribute to the man and his work. "He deftly directed Ford funding to several centers of the Consultative Group for International Agricultural Research (CGIAR) to add socioeconomic insights, a client orientation and a gender lens to their work."
Bailey, who also worked in several international offices of the Foundations, wrote, "I've known Norm since the mid-70s. I took him to see the upland work we were funding in Kumaon in Uttar Pradesh in India as he was pivoting from Chile to Asia. Later, he always dropped by the Department of Agricultural Economics at Cornell University to say hello when he was visiting his daughter.
"In July 1982, Norm accompanied Frank Thomas, John Gerhart and trustees in a visit to the Sudan shortly after I'd arrived in Khartoum. He was of immense help to me in the water management work in Egypt, where, in a subsequent trip to El Minia, we were nearly eaten alive by mosquitos.
"Norm pioneered the 'One Foundation' concept when, as the first director of Rural Poverty and Resources, he extended several of those overseas lines of work, particularly water and land management, into the United States.
"Norm also pioneered the use of computers in Foundation work. You would go into his office in New York and the conversation would quickly shift to hard drives and connectivity. Ford/New York grappled with its own computerization in those years and didn't provide resources to overseas offices, which wanted to computerize.
"When I arrived in Dhaka in 1986, we were able to set up the first email connection to New York through a dial-up line to London. That happened because Norm arranged for a CGIAR technician to help us.
"One year Norm invited me to join him at a CGIAR meeting at the World Bank in Washington, D.C. It was at one of those horseshoe tables where 'Ford Foundation' was seated between 'FAO' and 'France'. It was clear that when Norm spoke, people paid attention.
"Norm was smart, candid and kind, a man who listened with care and whose eyes twinkled with enthusiasm."