China, Global Health and the Role of the China Medical Board
By Lincoln Chen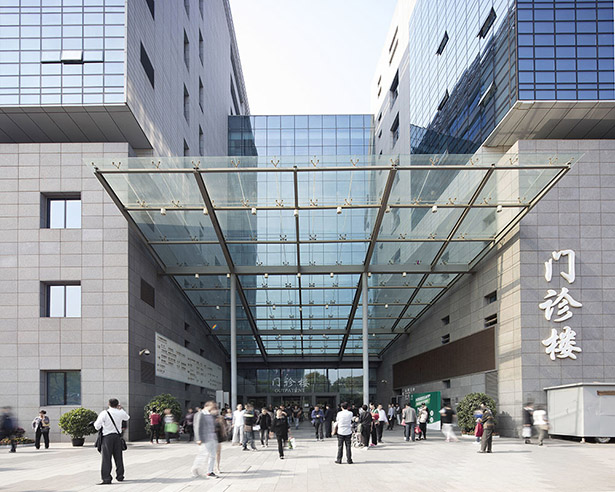 The Peking Union Medical College Hospital
This is my final and fourteenth year as president of the Rockefeller-endowed China Medical Board (CMB). It will have been my career's longest job, since all my previous jobs have been 5 to 10 years.
In 2014, CMB celebrated a century of work begun by a Rockefeller vision (Senior was the originator but Junior was the activist philanthropist) to build a modern medical school, the famous Peking Union Medical College and Hospital, one of China's most advanced medical institutions today.
A century ago, the discovery of the "germ theory" ushered in hopes for a revolution in health. China then was characterized in the West as the "sick man of Asia". Many believed that modern medicine could reduce human suffering and prolong life. Life expectancy had been in the 30s, whereas today it is in the 70s, similar to the United States.
CMB today has 20 staff members divided equally between headquarters in Cambridge, Mass., and two field offices in Beijing and Bangkok. Its endowment is about $275 million, enabling it to spend $12 to $14 million annually for direct operations, a recent change from an earlier grant-making classification since money is no longer the major impediment in China or Asia.
Throughout this long history, CMB's mission has remained constant: to promote Chinese and Asian capacity to advance health equity and quality of care. Its health professional education program builds on the century-long focus of medical education for physicians, nurses and allied health professionals. The health policy sciences program seeks to equip Chinese scholars to investigate the factors that can improve the performance of China's national health reform.
CMB also broadened its geographical reach over the century. About one-third of its program now is in Asia outside of China. In Southeast Asia, it recently began an innovative Equity Initiative. Partnering with Atlantic Philanthropies, this CMB program seeks to inspire and equip young professionals to advance social justice and health.
In its China health equity program, CMB has focused on primary health care and worked with under-served schools and in Western provinces. In its China quality-of-care work, it has aimed to improve the residency training at PUMC Hospital and a consortium of nine of China's leading hospitals for quality professionals to set examples throughout the country. Recently, CMB expanded graduate medical education for nurses, especially nurse practitioners who can help China's primary health care.
The Ford Foundation's connection to this work is extensive. I spent 14 years as Ford Foundation program officer and representative in Bangladesh and India. My long tenure reflected an earlier Ford employment pattern, including Ford-salaried loan to a scientific organization and a one-year sabbatical at a university. Interestingly, even though I am Chinese-American, my knowledge of Asia comes from my overseas experience with Ford exclusively in South Asia.
Several other former Ford people have been involved with CMB. Recently deceased Tom Kessinger (Indonesia, India) was a member of my selection committee; Tony Saich (China) just completed his term as board chair; and Suzanne Siskel (Indonesia, Philippines, New York), LAFF's co-president, is a trustee guiding CMB's Southeast Asia work. Peter Geithner (India, Thailand/Southeast Asia, New York, China) worked part time as senior management advisor for more than a decade before his death. CMB's field offices in Beijing and Bangkok were built on people, experiences and lessons from Ford's Asia experience.
Unfortunately, the recent United States-China "trade dispute" has dramatically changed the harmonious relations between the two nations. Not unique to China, registration and oversight of foreign NGOs by Public Security has intensified. In the United States, a hostile atmosphere has grown for Americans wishing to cooperate with China. While reporting is mandatory, China's NGO registration system has not impeded CMB's work, but it has entailed more administration.
Indeed, we should recognize that political tensions cannot be completely divorced from overseas philanthropy. CMB was asked to leave China in 1951 after the Communists took over, although that same government came to New York City to invite CMB back in 1981. During those 30 years, CMB worked in 18 other Asian countries supporting more than 100 medical schools.
One lesson of a historic foundation is that, while its mission is enduring, its strategy has to adapt to changing contexts, constraints and opportunities. CMB no longer depends upon one-way United States-China knowledge-technology transfer. Whereas China in the past sought access to modern medical sciences, it today participates at the frontier of science and technology.
It should be understood that professional quality depends upon modern education, but China has ancient wisdom that is valuable too. Traditional Chinese medicine has contributed to such breakthroughs as Artemisinin, the only drug effective against malaria. Given that China and the United States now have similar non-communicable disease profiles, much can be mutually learned.
China's health reform faces challenges not dissimilar to United States reforms: universal coverage, financing, new technologies, cost escalation and access by the disadvantaged. Perhaps most promising is the growth of China's global health engagement: health aid, Ebola control and strengthening the UN.
Distinctive to health is the understanding that gains in anybody's health is not at the expense of others, but that advances can contribute to the sharing of better health for all. Indeed, China's growing role in global health promises to improve health for everyone worldwide, including Americans.