The LAFF Family Gathers in New York
Nearly 100 people—LAFF members, family and friends, and Ford Foundation staff—attended the get-together March 21 at the renovated, recently re-opened and re-named Ford Foundation Center for Social Justice in New York City.
"Legacy is palpable in this room," noted Darren Walker, the Foundation's president, speaking to the gathering before they toured the building and attended a reception. "A legacy organization is only as good as its legacy."
Shep Forman, ending nine years as LAFF's president, described the Society as a "family that binds us to this institution. In subtle and small ways, we give something back."
Recognizing the growing relationship between the Foundation, as it charts a changing future, and LAFF as a repository of its past, he emphasized the need to "reach out and be useful to a new generation".
As he ended his tenure as head of LAFF, Forman was presented a crystal globe, inscribed "with deepest appreciation and affection from the LAFF community".
Suzanne Siskel, one of LAFF's two new co-presidents, also spoke, noting as well the links between the Foundation's past and its expansive future.
Betsy Campbell, the other co-president, was unable to attend the gathering.
Michael Seltzer, a member of LAFF's executive committee and head of its New York City chapter, led a tour of the building, highlighted by the Foundation's new first-floor art gallery, "committed to exploring issues of justice and injustice". The gallery, as well as the re-created garden, is open to the public.
Walker had earlier described the pivotal role of art in the re-imagined Foundation: "Arts and creative expressions have played an indelible role in building social justice movements. We're thrilled to open the doors of this special space, a forum for artists to experiment and create a vibrant and necessary dialogue with the public."
The current exhibit in the 1,500-square-foot space, titled Perilous Bodies, illustrates the direction of the Foundation by exploring "the inhumanity and injustice created by divisions of gender, race, class and ethnicity. The artists in the exhibition offer a raw and honest look at the issues we must address heads-on to ensure dignity for all."
Photographs of the gathering in this newsletter were taken by LAFF members Haskell Ward, Jon Funabiki, Bird Runningwater and Nellie Toma. More are available on the Facebook pages of LAFF and Haskell Ward.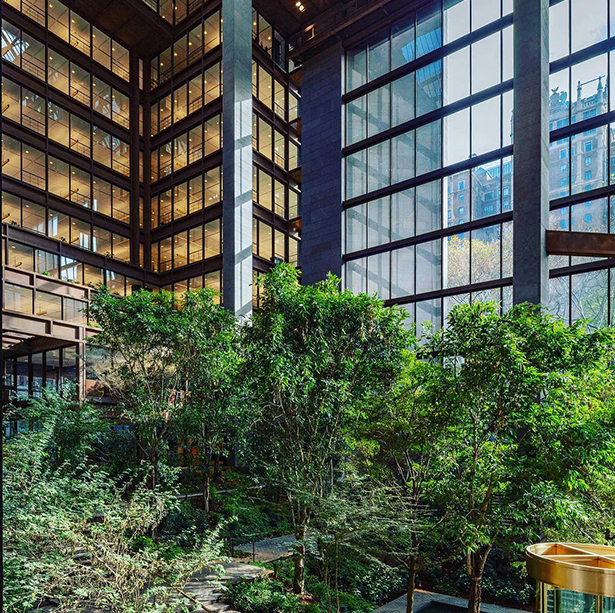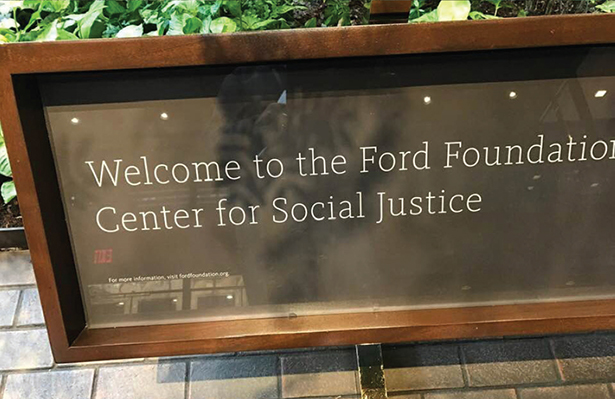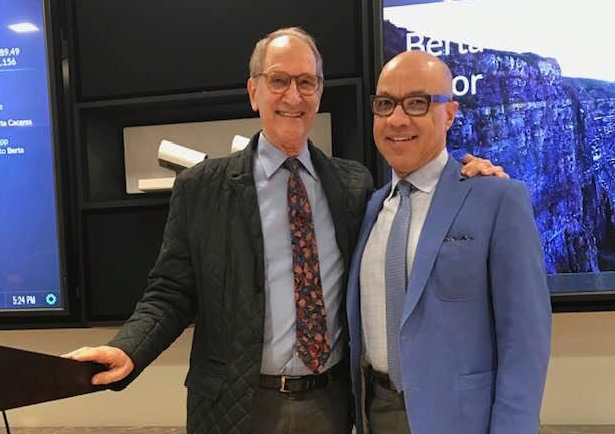 Continuing the legacy: Shep Forman, LAFF's outgoing president, poses
with Darren Walker, president of the Ford Foundation.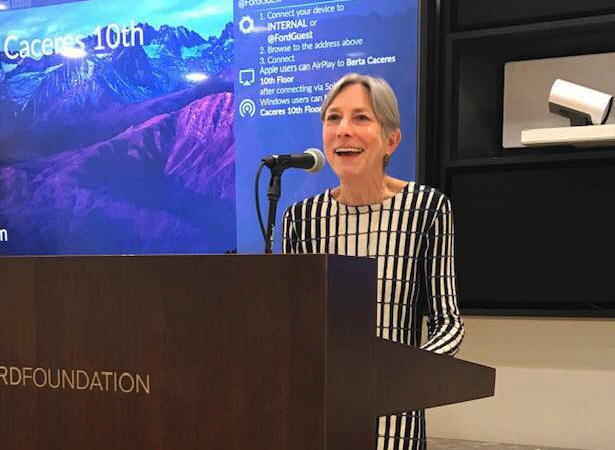 Suzanne Siskel, who with Betsy Campbell is one of LAFF's new
co-presidents, addresses the gathering.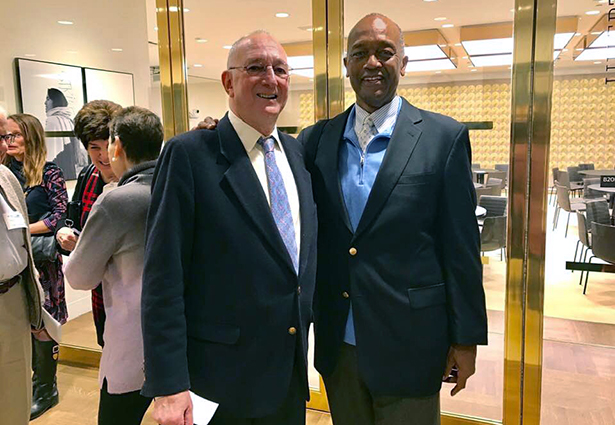 Among those enjoying the renovated Ford Foundation building, with its
re-created garden: Michael Seltzer, left in the top photo, who is head
of LAFF's New York chapter and a member of its executive committee,
with Haskell Ward.

Margaret Black, Michelle Sylvain and Nedra Gathers, a current Foundation
staff member.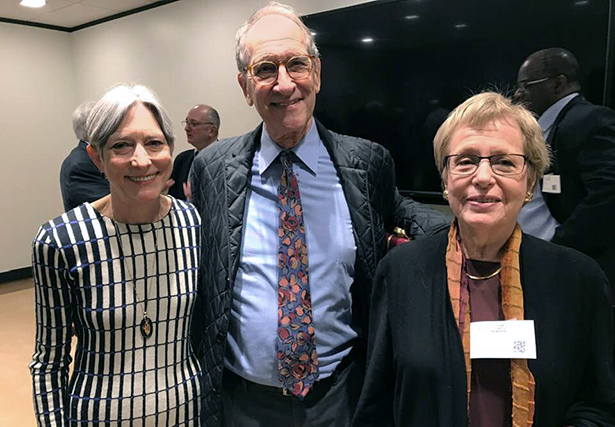 Suzanne Siskel, on the left, Shep Forman and Sheila Gordon, a member of LAFF's executive committee.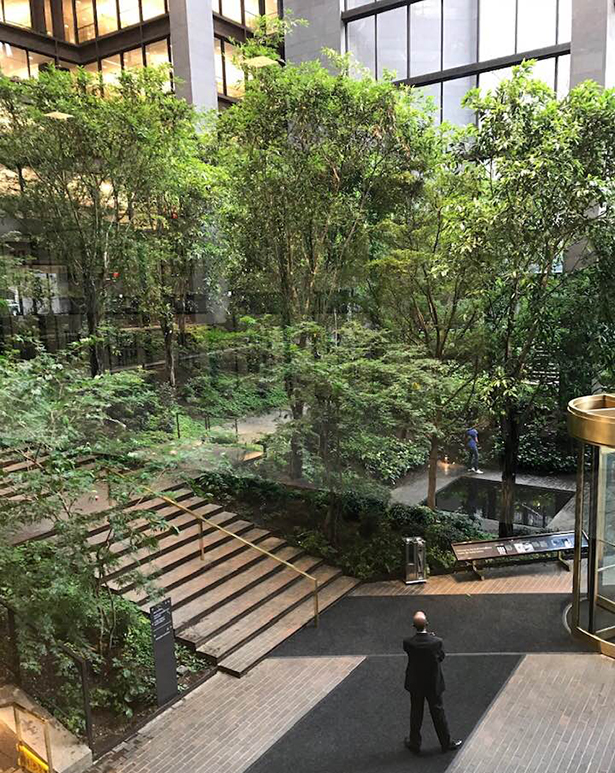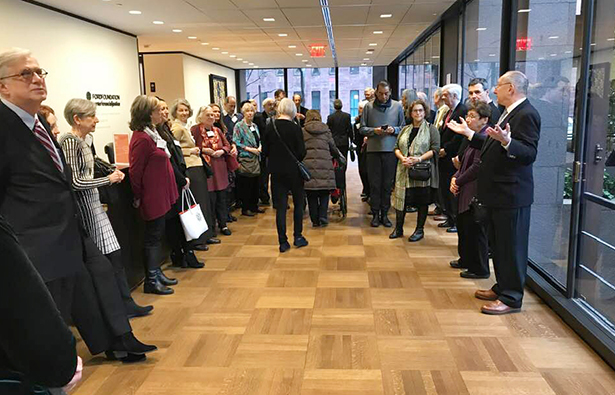 Michael Seltzer, right, led the tour of the newly named Ford Foundation
Center for Social Justice, which includes a more open arrangement
for offices and rooms named for human rights leaders.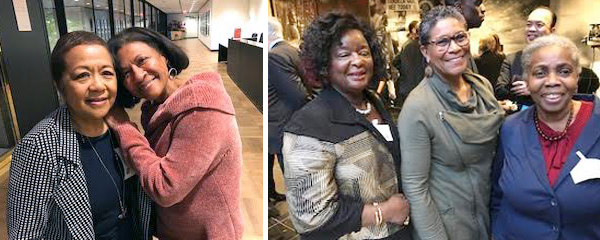 The gathering brought friends together, including Anita Achkhanian,
left, and Norma Jimenez; Eugenia Chinsman, left, Linda Charles
and Sheila Nelson.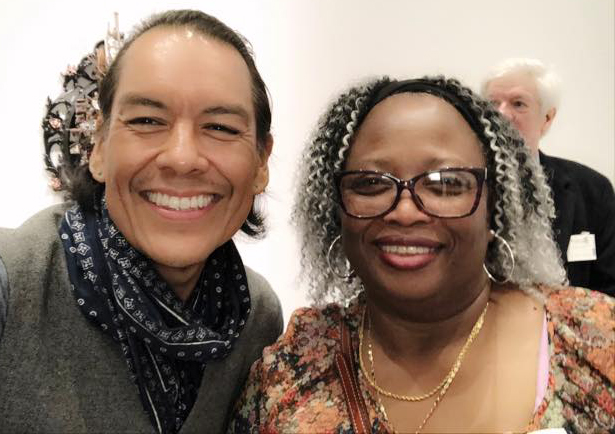 Bird Runningwater and Audrey Simon.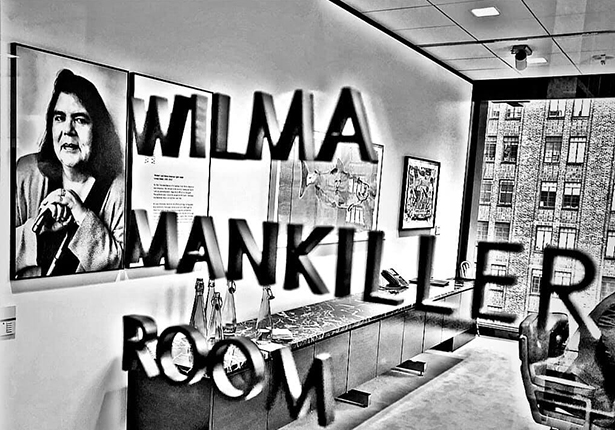 A room named for human rights leader Wilma Mankiller.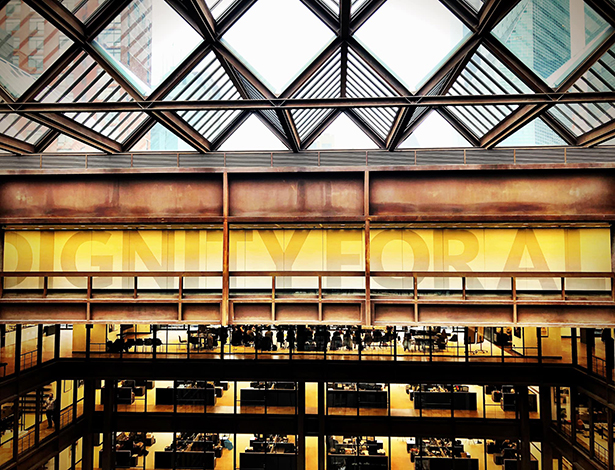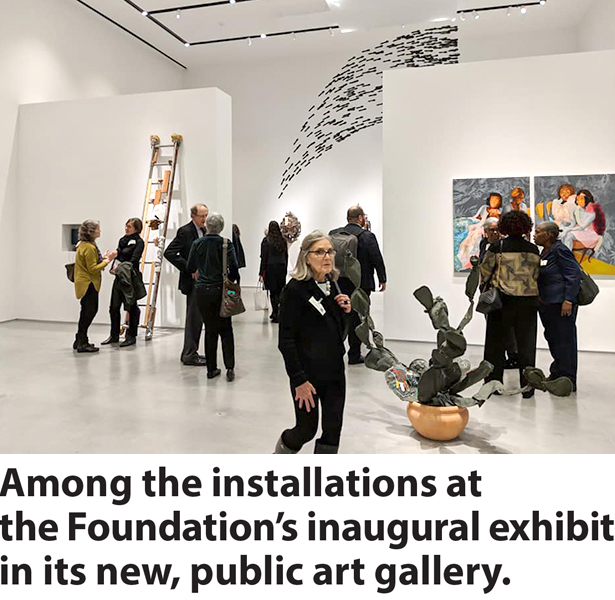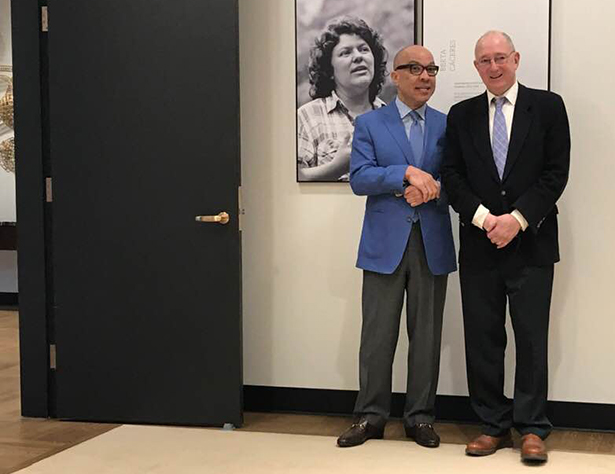 Michael and Darren Walker greet the members as they explore the
exhibit, Perilous Bodies, in the gallery described as "a special place, a
forum for artists to experiment and create a vibrant and necessary
dialogue with the public".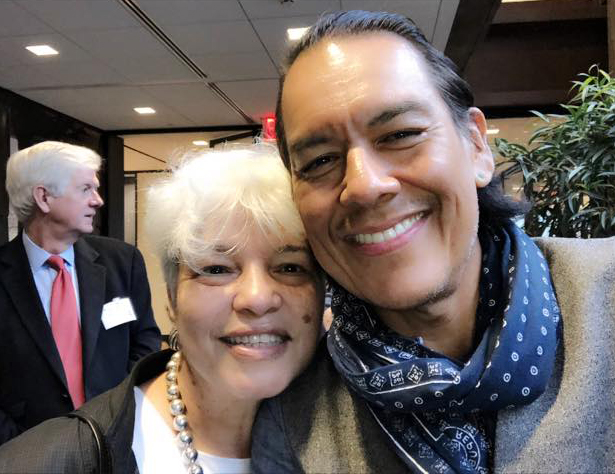 Ginger Floyd re-connects with Bird Runningwater.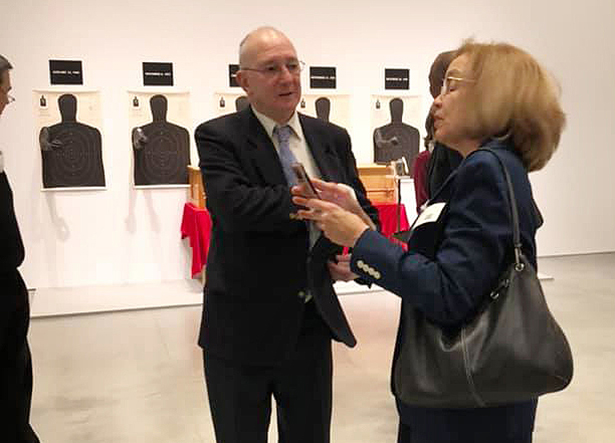 Margaret Black is in deep discussion with Michael Seltzer.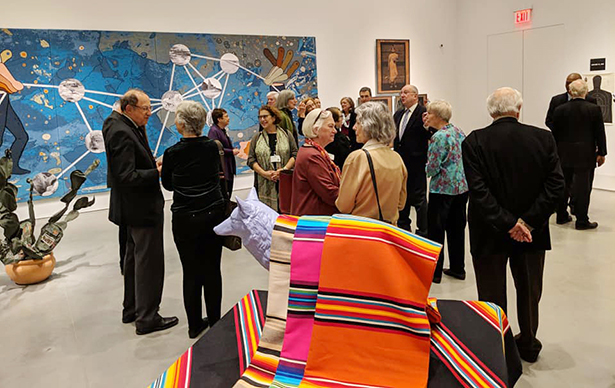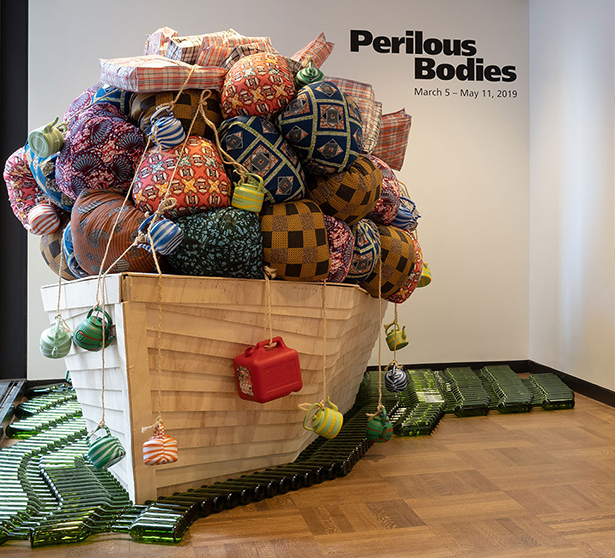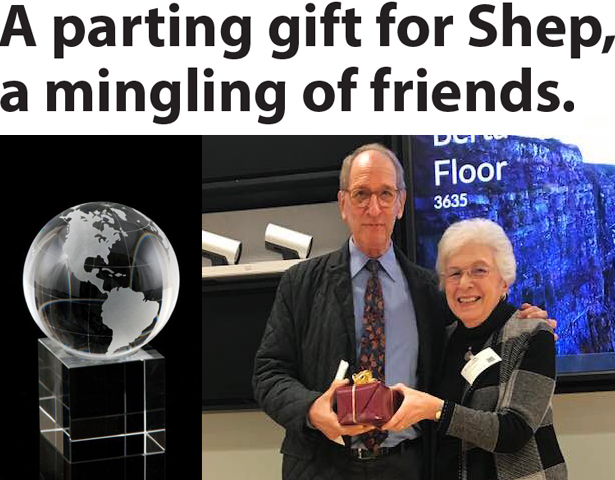 Shep Forman, LAFF's retiring president, received a gift from the members "with deepest appreciation and affection", presented by the Society's secretary-treasurer Nellie Toma.

Shep, Jim Himes on the left and Haskell Ward, as LAFFers gathered
to mingle and introduce themselves, including Sheila Nelson, right, a member of LAFF's advisory board.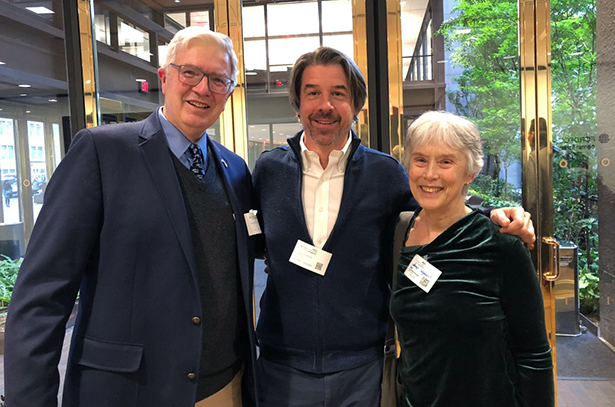 Stopping in the hall are Alex Wilde, on the left, Louis Bickford and
Bonnie Shepard.