Rohingya Refugees Seek Hope in a "City of Despair"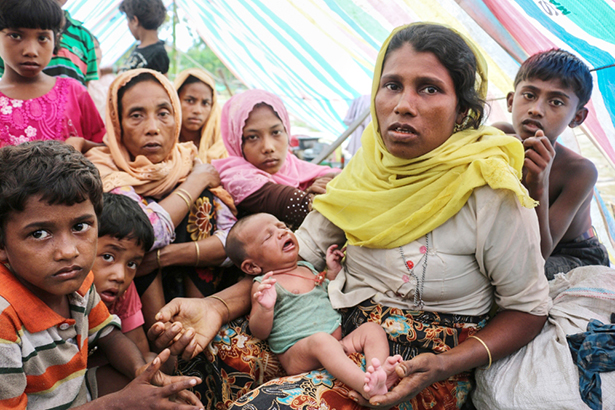 Anuara Begum, 30, says she gave birth before fleeing to Bangladesh from her home in Rakhine State, Myanmar. The journey lasted nine days. Photo by Verena Hölzl from www.irinnews.org
Anuara Begum, 30, says she gave birth before fleeing to Bangladesh from her home in Rakhine State, Myanmar. The journey lasted nine days. Photo from www.irinnews.org
It's been called a "sprawling city of despair", a vast, crowded area in Bangladesh where hundreds of thousands of Rohingyas have sought refuge from years of systematic persecution and violence in neighboring Myanmar, their homeland for centuries.
The United Nations said five years ago that the Rohingyas, most of them Muslims living in a predominantly Buddhist country, were "one of the most persecuted minorities in the world".
Now they live in squalor and fear following what an article in The New York Times in August described as "years of oppression and abuse" that is part of "a broader campaign of ethnic cleansing—burning villages, killing thousands and forcing hundreds of thousands to flee to Bangladesh…."
On the purely political front, the article states, "there has been almost no progress in holding anyone accountable" and efforts by the international community "have largely faltered".
Gowher Rizvi, international affairs adviser to the prime minister of Bangladesh, last fall expressed that country's belief that the only solution is for Myanmar to take the Rohingyas back, and is working as part of an international coalition to find a solution to the deepening problem.
Rizvi, who worked at the Ford Foundation from 1996 to 2002 primarily in the Asia program and New Delhi office, said in a news article that he "has seen lots of refugee camps all over the world and that it is a big challenge to find shelter and food".
It is also a major challenge to get Myanmar to simply recognize the Rohingya people. According to The New York Times, they are considered indigenous to Bangladesh and "interlopers" in Myanmar, where an official of the state of Rakhine, from which most of them fled, said, "There is no such thing as Rohingya. It is fake news."
So while the efforts continue to find a political solution, many work within the camps to alleviate the often intolerable conditions, faced with the reality that the problem will not be solved soon.
"The world cannot let the dire needs of Rohingya refugees go unmet," declared a United Nations report issued in June and co-written by Natalia Kanem, under-secretary general and executive director of the United Nations Population Fund (UNFPA). "More funding is required to provide food, shelter and essential support to both the refugees and the affected host communities.
"We call on the international community to urgently step up its efforts to help all Rohingya refugees in confronting their ordeal," said the statement, co-written by Pramila Patten, under-secretary and special representative of the U.N. on sexual violence in conflict.
"We warn of the dire consequences that many of the over 700,000 refugees will face with the anticipated monsoon rains. Flooding and landslides could compound the suffering of these refugees, causing further destruction as they try to rebuild their lives."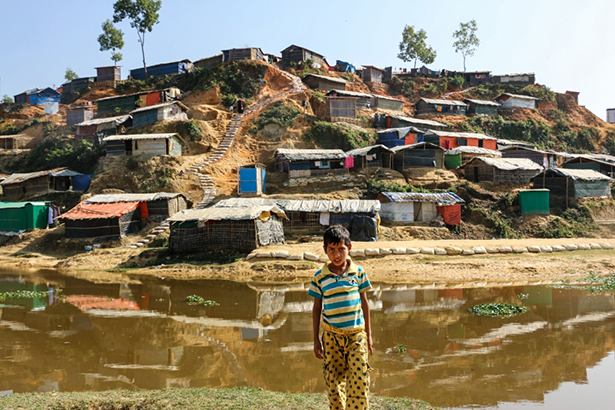 The Rohingya refugee camps of Bangladesh have swollen to the size of a city, but have little of the infrastructure. Aid workers say the upcoming monsoon and cyclone seasons could have a devastating impact on the fragile settlements. Photo by Verena Hölzl from www.irinnews.org
Kanem and Patten visited the densely populated camp in the area of Bangladesh known as Cox's Bazar, across the border from Rakhine, in May. Kanem, who has been with the U.N. since 2014, worked at Ford from 1992 to 2005 in several capacities, including in the Lagos office, management services and the Peace and Justice program.
Their report expressed satisfaction with much of the international response to the crisis so far.
"The Joint Response Plan for the Rohingya Humanitarian Crisis, launched in Geneva earlier this year," it noted, "requested $951 million to provide life-saving assistance to 1.3 million people. Thanks to the response from the Government and people of Bangladesh, with the support of the international community, life-saving assistance has reached more than a million people."
But, it cautioned, more action is needed beyond the pledges as "only 18 per cent of the funding needed for the joint response plan has so far been provided".
The shortfall is especially acute for the work Kanem is most involved in at the U.N.: the health and safety of women, many of whom in Cox's Bazar were victims of sexual assault and rape by members of the Myanmar militia before they fled.
"UNFPA faces a funding gap of $3.7 million for the emergency response to meet the critical health, hygiene and protection needs of Rohingya women and girls through the end of 2018", said the report. "The survivors of rape and other forms of sexual violence continue to suffer acute physical and psychological trauma, which is often compounded by social stigma and unwanted pregnancy….."
"We are also deeply concerned about reports of women and girls, who have already been subjected to unthinkable hardship, violence and abuse, now facing escalating risks of child marriage, trafficking and gender-based violence. Securing the safety, well-being and dignity of women is—and must remain—paramount."
The anticipated rains did come and, while work continued to make the camps habitable and safe, brought with them much of the difficulty that had been predicted.
On a second visit, in July, when she accompanied the U.N.'s secretary-general, Antonio Guterres, World Bank president Jim Yong Kim, and other international humanitarian aid officials, Kanem observed that the "heavy rains and their impact are already compounding the suffering of these refugees, even as they try to rebuild their lives."
Most refugees were living in makeshift huts constructed from bamboo sticks, with plastic sheeting for walls and tarpaulins for roofs. The New York Times described one setting on a hilltop as "benefiting from a gentle, if occasional breeze that wards off the oppressive heat, sour aromas and swarms of black flies that make life in other parts of the camp more miserable.
"Still, there is no running water or electricity, nor is there much prospect for jobs or lives beyond dull subsistence on the handouts of foreign aid groups."
"It's heartbreaking," Kanem said during the July visit, as quoted in a story in the Bangladesh paper The Daily Star, "to think that human beings can be cruel to each other even at a time of conflict and disagreement. Women and girls bear the brunt of conflict, not only of displacement but also by the type of sexual and gender-based violence and the heinous crimes which have been recounted….
"They have found refuge across the border here," she said. "Now the very basic needs of survival—food, appropriate shelter and the ability to feel safe and protected—are barely within reach."
She said that as many as 60 babies are born in the camps every day, while scores of pregnant women need proper nutrition and post-natal care. Many of these women, she said, are victims of crimes of sexual violence by Myanmar soldiers.
To provide the care these women need, and a safe refuge, the UNFPA created 19 centers, known as Women-Friendly Spaces (WFS), offering healthcare and counseling and professional case management for victims of violence. But to illustrate the fragile nature of life in the refugee camps, 10 of these centers were damaged by rain and mudslides in the early weeks of the summer monsoon.
And the rains were keeping people away. Even before the monsoon arrived it was estimated that no more than a fifth of all babies were delivered in health facilities. As the rains persisted, use of the women-friendly spaces declined by 60 percent.
To try to counter the damaging effects of the weather, and to supplement the work of the centers, UNFPA workers have been distributing sterile-delivery kits, including a plastic sheet, razor blades, gloves and towels, to help ensure a safe delivery for women who cannot reach a center or other health facility when they are about to deliver.
Community watch groups, comprised of women in the camps and local residents, have been formed to locate women who are pregnant so they can be taken to more secure settlements and health facilities, especially to help them cope with "trauma and loss". Midwives and case workers travel along rutted and water-logged roads to reach those in need.
But Kanem saw some hope through efforts by the Bangladesh government to support structural improvements in the camps, and by recent international decisions. Just prior to her visit with the secretary-general in July, the World Bank said it would provide up to $480 million to U.N. agencies and their partners to "strengthen humanitarian efforts".
"It was encouraging," Kanem said, "that the current infrastructure will be strengthened by the Bangladesh government so that semi-permanent structures will be constructed in view of longer-term sustainability.
"We pledge to do all we can to provide life-saving services for women and girls within the refugee population as well as the host communities, who have been so generous in welcoming the Rohingya people."
She was also encouraged by small, individual demonstrations of hope by the refugees themselves.
"I was very pleased," she said, "that among the women who spoke to the secretary-general and World Bank president was a woman with her baby. The baby was six months old, and she declared her son was the result of rape and she has treated the son with full love and she was being treated with full respect from her community, which she deserves.
"This showed we made some progress. Women should not be victimized twice for what happened to them.
"We also believe," she said, "that no matter what has happened to you in the past, the future should be different."